3 Brilliant, Gorgeous, and Easy Gift Wrap Ideas for Under Your Tree
There are two types of people in this world. First, there are the people that hate wrapping gifts, leaving a trail of paper shreds, ruined store-bought bows, and tape strips in the carpet. Their gifts are wrapped in wrinkled paper, have uneven folds, and questionably peek-proof edges. And still, each wrapped gift is absolutely a labor of love.

Then, there are the folks who are the Chip and Joanna Gaines of the gift-wrap world. The packages they produce belong on the cover of a Pottery Barn catalog, decked out in pine tree clippings, cranberry sprigs, rich velvet ribbons, colorful candies, and a sprinkle of fake snow. Every gift under their tree is themed; they aren't exact duplicates of each other, but each package is perfectly coordinated. Their gifts are gilded in gold and silver, wintery plaids, and sweet sentiments, are magically and beautifully "thrown together in a hurry," and are almost too nice to open. Almost.

This blog post goes out to the people who are not the Martha Stewarts of the gift-wrap world, because we're going to tell you how to achieve their look to a tee while sparking your own creativity. Without further ado, here are three fun, beautiful, and easy gift wrapping ideas that ANYONE can whip up, on any budget.

Theme: Plaid Perfection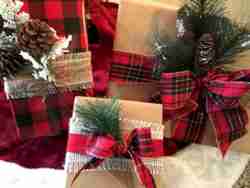 Think rustic hunting lodge meets vintage shipping parcel.

Shopping list:
- Plaid-patterned wrapping paper
- Kraft Postal Wrap (or paper grocery bags)
- Jute string
- 2"-3" wide burlap ribbon
- 1"-2" wide solid color ribbon, coordinating color
- 2"-3" wide plaid ribbon, in coordinating colors as wrapping paper
- Sprays of pine greenery
- Pine cone picks
- These Gift tags, compliments of Yellow Bliss Road
- Scotch Gift Wrap Tape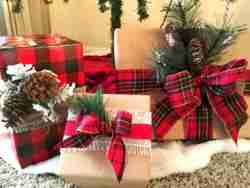 Wrapping instructions: When wrapping, use the plain ribbons on patterned paper, and vice versa. Use the wide burlap ribbon and the slightly smaller solid-colored ribbon layered together for extra options on both wrapping papers. Once you tie the first half of a knot with your ribbons, attach the gift tag. Make sure a piece of string is looped through the gift tag and slip it onto one of the ribbons, pressing it snuggly against where the ribbons intersect. To attach greenery and pine cones, arrange them together as you like and lay them across the first part of the knot, then finish tying off your ribbon/string in a bow or full knot. The greenery and pine cones should be securely tied to the package, along with your gift tag. We recommend writing in a gold leaf pen for a metallic pop.

Advanced: With a paintbrush, "flick" some white paint onto the top of the package and allow to dry before wrapping with ribbon.

Theme: Snow Day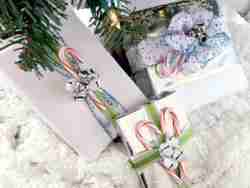 Where mittens, jingle bells, candy canes, and sunshine glittering off of fresh snow get taped to your presents.
Shopping List:
- White glitter wrapping paper
- Silver/Gray and white snowflake wrapping paper
- 2"-3" wired edge white organza ribbon
- 2"-3" patterned ribbon, in color of your choice (e.g. blue)
- 1"-2" solid colored ribbon, complementing color (e.g. pink)
- Bakers Twine, coordinating colors
- Gold or silver jingle bells, 1" diameter minimum
- Candy canes
- These gift tags, courtesy of Sarah Titus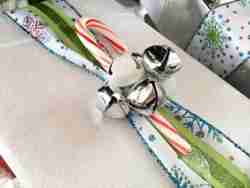 - iCraft Super Tape (Scotch won't stick to true glitter wrapping paper)

Wrapping instructions: Since the gift wrapping paper for this theme is neutral, use any combination of ribbons with it to compliment. Layering the ribbons is highly recommended for this theme. The wired ribbon will give you structure so that you can make a big, full bow. Use smaller ribbon and the Bakers twine for small gifts and tags, and larger ribbon for large gifts. Once you tie the first half of a knot with your ribbons, attach the gift tag. Make sure a piece of string is looped through the gift tag and slip it onto one of the ribbons, pressing it snuggly against where the ribbons intersect. Attach the jingle bells like the gift tags. To attach candy canes, lay them across the first part of the knot, then finish tying off your ribbon/string in a bow or full knot, fastening them in place. Be careful not to crush the candy in the tying process!
Advanced: Create your own bow from the ribbon you picked out. Find a tutorial on Pinterest if you need help.



Theme: Caroling Classics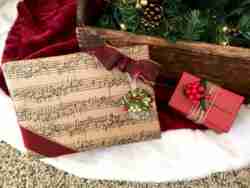 Classic Christmas music, holly wreaths, and mistletoe take us back to the Victorian era, in an all-too-modern way.

Shopping List:
- Green or Burgundy-red Kraft Paper/wrapping paper
- Musical wrapping paper
- Thin jute twine
- Thick jute twine
- 2"-3" wired burgundy-red ribbon
- Holly berry mini wreaths, or another kind of small, wreath greenery
- Holly berry picks
- Fake mistletoe picks or a mistletoe ornament
- These gift tags, courtesy of How to Nest for Less
- Scotch Gift Wrap Tape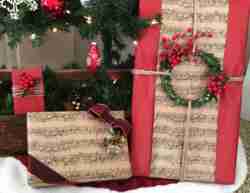 Wrapping instructions: As with the previous two themes, change up your wrapping paper and ribbon combinations frequently for variety. The only difference with this theme is that we highly recommend combining 2 different kinds of gift wrap on a single gift by layering them. First, wrap a gift in a plain-colored paper. Then cut out a strip of patterned paper that is smaller than the first, that you can tape around the gift and create a "stripe", where the solid paper shows around the edges. Make sure you cut the patterned paper large enough to fold each side in, that way you have a nice, sharp edge instead of a "raggedy" one from scissors. Use the ribbon and twine in the same manner as the previous gift styles, tying a tag in and any sprigs at the base of a knot. To attach the mini wreaths: Center a wreath in the front of your gift. Cut two lengths of twine out to tie the wreath to the package with. Loop one string around opposite ends of the wreath, and tie the knot on the opposite side of the package to hold the wreath on. Repeat with the other points on the wreath for a 4-way tie.
Advanced: Use bits of fresh pine and fresh mistletoe for the most vintage-y vibe. These have to be placed shortly before giving the gift to ensure they look their prettiest.

BONUS IDEA:
Beautify your bags. Paper grocery bags add a touch of vintage charm to your gifts when you use them as gift wrap. Better yet, they come free with your groceries! (Or 10 cents each now, if you live in California. Hey, it's still cheaper than a roll of wrapping paper.) Use the inside of the gift bag for a blank slate to decorate yourself, or if there are festive prints on the bag, use those on the exterior.
In lieu of a paper grocery bag, you can also purchase Kraft Postal Wrap, which is a much cheaper option than finding a similar item in the gift wrap aisle.

Decoration ideas:
- Doodle on your wrapped gifts with a permanent marker, or use a stencil. For a fun metallic pop, use a Gold Leaf or Silver Leaf pen, found at your local craft store.
- Double-sided tape creates the perfect medium for sticking anything you want to the package. Glitter, confetti, fabric scraps, you name it. Lay down a line or two, press your chosen décor into the tape, and brush off the excess. Voila!
- To pursue that vintage look, nothing says "traditional" like twine, ribbon, pine, and holly. Take a look at your local dollar store for floral items such as fake pine, cranberry sprigs, and other festive ideas to tie into your twine.
- Washi tape is all the rage, and you can do anything with it. Create patterns, layer and intertwine different tapes, and combine with ribbons and bows for a fun look. For a few dollars, your grocery bags will look like works of art!
- Use a stamp and stamp pad to create your own patterned paper.
Of course, to avoid the headache of wrapping a million gifts, you can always order a pre-wrapped, gorgeous gift basket that will automatically be shipped wherever you want it to go. It's a headache-free process!

Do you have any clever gift wrap ideas? Please share with us! We'd love to see photos on our Facebook or Instagram!