6 Gift Baskets for the Health Nuts in Your Life ? And They're Not All Fruit!
Almost all of us can name at least a handful of friends and family members that follow a specific diet or prefer to stick to healthier options when it comes to treating themselves. If you're tasked with finding a gift for your health-minded loved ones this holiday season, consider one of the gift baskets below, each thoughtfully selected to accommodate a specific diet concern.

Low Carb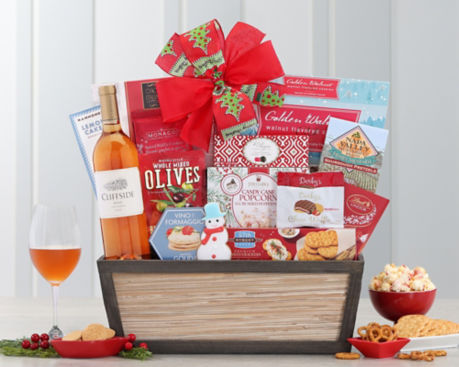 The benefits of a low carb diet are truly endless. It minimizes hunger throughout the day, curbs sugar cravings, improves heart health, and leads to a higher percentage of weight loss successes than any other diet. For those around you that have been relatively carb-conscious lately, consider our Blakemore Cabernet Assortment to show you care in a way that also supports their health goals. Featuring Blakemore Cabernet Sauvignon, garlic & herb dip mix, and green olive & red pepper tapenade; this assortment also comes with a cheese knife, wine stopper, and a three wine bottle holder. It's the gift that keeps on giving all year `round!
Gluten-Free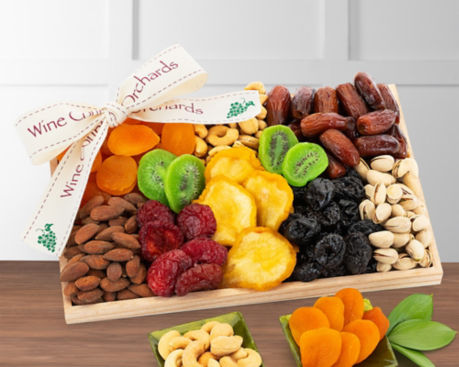 Whether this recipient is gluten-free by choice or by necessity, it would mean a lot to them that you went the extra mile to find a thoughtful (and delicious!) gift that keeps them on track. Our Gourmet Dried Fruit & Nut Collection is a tried and true classic that's sure to impress, filled with dried pears, plums, apricots, kiwi, and more, in addition to a selection of our favorite mixed nuts. Everything in this basket is simultaneously free of gluten and loaded with the quality they can taste.
Non-Drinker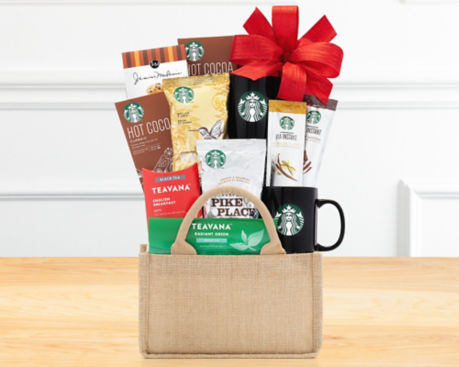 Have a friend who isn't the biggest wine fan? No problem! We have dozens of excellent gift baskets without alcohol, like this Starbucks Coffee & Tazo Tea Collection. Exclusive to Wine Country Gift Baskets, this collection is loaded with coffees, teas, and hot cocoa, and even comes with two classic Starbucks mugs to put them all in. So brew up a pot of French Roast Coffee and enjoy with your friends ? cheers to a happy, healthy holiday!
Low Sodium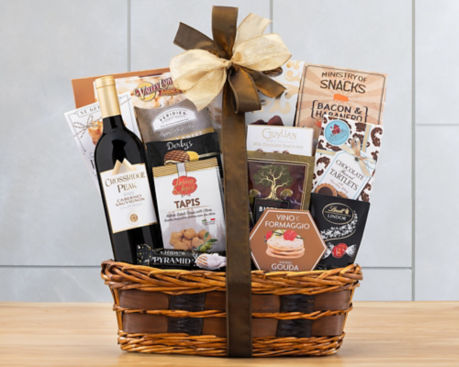 A low sodium food is defined by the FDA as having less than 140mg of Sodium per serving. Our Eastpoint Cellars Merlot basket is the ideal solution for when you're struggling to find something that fits these constraints, and anyone watching their sodium will be happy to dig in. With a deep but fruity Eastpoint Merlot, a wine stopper, sesame crackers, and chocolate truffles to choose from, this assortment is sure to please anyone ? low sodium or not! This basket also includes an Asiago cheese spread, which can be enjoyed in smaller portions for a low sodium option.
Vegetarian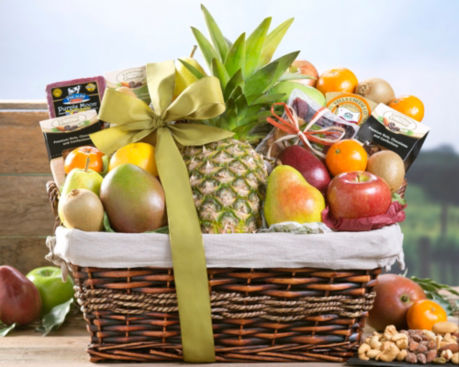 The Paradise Tropical Fruit, Nut, & Cheese Collection isn't just any fruit basket. Literally overflowing with everything from apples and oranges to red pears and a pineapple, these fruits are complemented by an assortment of artisanal cheeses, like Northwoods Gourmet Wisconsin Cheddar and Claire De Lune Brie Creamy Cheese Spread, and mixed nuts. Looking to go even further with a gift for a Vegan? Sign them up for our Favorites Fruit Basket or Dried Fruit and Nut Gift!
Low Fat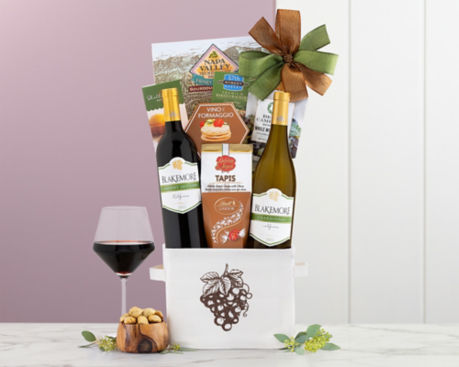 Whether they're watching their waistline and have a doctor-ordered low-fat diet, your friend or family member will love opening up their Vintners Path Winery Duet knowing they can enjoy it guilt-free. The Vintners Path Winery Chardonnay and Cabernet Sauvignon each pair wonderfully with brownie cookies, peanut butter truffles, rosemary and olive oil crackers, and a roasted onion dip mix. Topped off with a wine stopper they can hang on to, this basket is low in fat and high in satisfaction.
Everyone loves giving gift baskets, but most tend to write them off as not being a healthy option when it comes to their diet-conscious friends. With these baskets available to you, there's a little something to satisfy everyone on your list, so you can be confident that each and every one of your gifts will be a hit!

Sources:
http://www.mayoclinic.org/diseases-conditions/heart-disease/in-depth/red-wine/art-20048281
http://authoritynutrition.com/10-benefits-of-low-carb-ketogenic-diets/
http://www.fda.gov/Food/ResourcesForYou/Consumers/ucm315393.htm
http://www.everydayhealth.com/weight/low-fat-diet-benefits.aspx