Articles
4 Fresh and Fun Recipes to Liven Up Your Fruit Basket
Fruit baskets are a tried and true staple here at Wine Country Gift Baskets. With our carefully sourced produce and thoughtfully designed baskets, there's really no way you can go wrong sending one of our fruit gift baskets to show someone you care. Help your recipient make the most of this thoughtful gift by giving them some ideas for creative recipes to try out with their new basket, or attempt a couple yourself if you have the ingredients on hand! Check out a few of our favorite fruit-based recipes below, all centered around our standard fruit basket ingredients, and see how easy it is to make the classic fruit basket fresh again.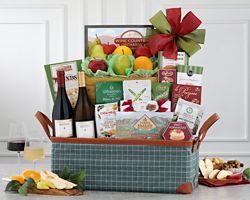 Bloomin' Baked Apples
No fruit basket is complete without an abundance of apples! Go for something new with some of those apples and try your hand at these bloomin' baked apples the next time you're tasked with making dessert for your friends and family. To get the right shape, start by slicing off the top 1/4 of the apples and scooping out the core, then cut 2 concentric circles in the remaining part of the apple. Next, make narrow vertical cuts all around the apple, so that, when sitting upright, it can fan out from the center. In a separate container, mix 1 Tbsp butter, 2 Tbsp brown sugar, 1/2 tsp cinnamon, and a dash of flour per apple, and heat in the microwave to blend completely. Place this mixture on top of the apples in a baking dish, and bake at 375 for 30 minutes or until tender. Top with ice cream or drizzle with caramel, and you've just turned an already lovable gift basket into a gourmet dessert!
Recipe courtesy of The Gunny Sack.


Caramelized Brown Sugar Grilled Pineapple
Looking for a creative and delicious way to put the pineapple in your Paradise Tropical Fruit, Nut, and Cheese Collection to good use? Try grilling up some of these sweet and tangy brown sugar cinnamon pineapple spears. Simply skin and core the pineapple, and cut the edible portion into the shape of your choosing -- our favorites for this recipe are spears or cubes -- and lay flat on top of a sheet of foil. In a bowl, soften about 1/2 cup of butter (per pineapple) and mix with 1/2 cup of brown sugar and a dash of cinnamon, and pour the sugary combination all over your pineapple chunks. Grill your pineapple for about 5-10 minutes, depending on size and thickness of the fruit pieces, and you've got yourself a unique and delicious side dish for any meal. Pro tip: Fold the edges of the foil up before getting started to avoid the sauce spilling out onto the grill.
Recipe Courtesy of The Recipe Critic.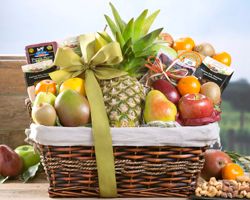 Candied Oranges
Oranges come standard in nearly every one of our unique fruit baskets, and for good reason! Already delicious enough on their own, these little citrus fruits make for an even more delicious candy. Grab a couple oranges from your Premium Fruit Club box and let's get started. In a small saucepan, combine 2 cups of sugar with 1 cup of water and bring to a boil, melting the sugar completely. When that's done, remove the mixture from heat and pour into a shallow container to cool. Once cooled, soak your orange slices in the mixture by placing them in the sealed container and leaving them in the fridge overnight. When you're ready to candy the oranges, preheat your oven to 170 degrees and line a baking sheet with parchment paper, and place a cooling rack on top where you'll lay your thinly sliced oranges. Place the oranges in the oven leaving it slightly cracked, and dry the oranges in there for about 2 hours. When they are completely dry to the touch, remove from the oven and let the oranges cool completely, and voilà ! You've got yourself a delicious and impressive candy, perfect for gifting during the holidays or enjoying at home.
Recipe is courtesy of Food Apparel.


Wine Poached Pears
We've saved the best for last! Two of our favorite ingredients -- pears and a good red wine -- have come together in harmony to make this decadent and beautiful dessert. If you've found yourself with the Callister Cellars Wine and Fruit Collection basket and have a little time on your hands, we highly suggest you give this recipe a try. Start by mixing 1 1/2 cups of red wine, 1/2 cup of orange juice, and 1/2 cup of sugar with a dash of cinnamon, nutmeg, and ginger in a saucepan and bring to a boil. Turn down the heat to a simmer and add the skinned pears, partially cover the pot, and cook for 30-40 minutes, turning the pears occasionally to make sure they're evenly soaked. The easiest way to tell if the pears are done is to poke with a knife or skewer -- the pears should be soft but not mushy.
Recipe courtesy of eCurry.