Articles
Chocolate Gift Baskets to Satisfy Your Sweet Tooth
When was the last time you gave someone the gift of chocolate and they didn't appreciate (and devour) every last bit of it? Not coming up with anything? Well that's because it's probably never happened. Chocolate is the universally loved gift of thanks, appreciation, love, congratulations, and "just because," which is why we've made sure to stock our shelves with some of the world's greatest chocolates to fill your gift baskets. No matter your budget, there is a Wine Country Gift Baskets collection brimming with chocolate delight made just for you. Check out some of our favorites below, or shop our complete selection of Chocolate Gift Baskets for more.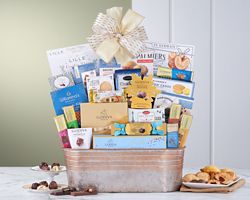 Godiva Extravaganza - $180
This impressive selection of Godiva chocolates is for the true chocoholic in your life. Our most extravagant chocolate gift basket comes complete with Godiva dark chocolate squares, dark & milk chocolate cocoa, a complete collection of Godiva truffles, chocolate salted toffee caramels, a chocolate salted almond bar, and chocolate covered pretzels, raisins, graham crackers, and almonds. Packaged in a beautiful chocolate brown tin basket, this gift is sure to leave a lasting impression.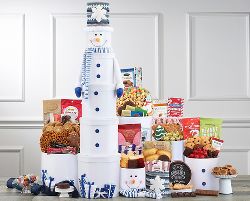 3 Feet of Chocolate Tower - $180
Imagine the look on your loved one's face when they open their door to a delivery of chocolates and candies that pile up to their hip! It's impossible not to be impressed by this 3-foot tall tower -- and that's before they even look inside. Every inch of this sweet treat stack is filled with sugary goodness, from the chocolate covered assorted nuts and Popcornopolis popcorn to the Ghirardelli chocolate caramels and Lindt Lindor milk chocolate truffles. With 6 stacked boxes each filled with new surprises, it's truly the gift that keeps on giving -- giving more and more chocolate, that is.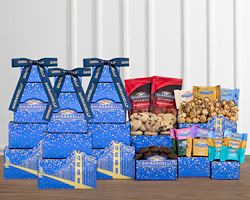 Ghirardelli Tower 3 Pack - $90
Are you simply surrounded by chocolate addicts and sweet tooths? Knock out three gifts at once with our 3-pack of Ghirardelli chocolate towers, each made up of 5 sparkling blue boxes filled with Ghirardelli favorites, including: a complete collection of Ghirardelli squares, milk and dark chocolate covered pretzels, dark chocolate wafers, chocolate chip cookies, white mocha beverage mix, hot cocoa, and a caramel-filled chocolate bar. Say Thank You, Congratulations, Happy Holidays, or any number of things with these deliciously festive stacks of the greatest ingredient around.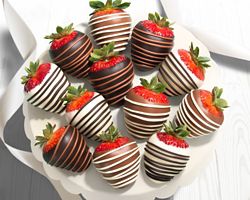 Dipped Chocolate Strawberries, Full Dozen - $39.95
A tried and true classic, this box of a dozen chocolate dipped strawberries is crafted and packaged with care and quality, in true Wine Country fashion. Each strawberry is hand-dipped in dark, milk, or white chocolate, and drizzled with a complementary chocolate for that final touch, making for both a gourmet presentation and a gourmet taste.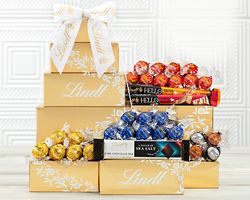 Deluxe Rocky Mountain Chocolate Tower - $24.95
Big on taste and low on cost, the Deluxe Rocky Mountain Chocolate Tower is perfect for gifting year-round. This cascading golden tower designed to mimic the Rocky Mountain namesake comes filled with chocolate covered almonds, fudge, chocolate covered pretzels, classic English toffee, chocolate chip toffee cookies, peanut brittle, and much more. Pick up one for your friend, for your mom, for your colleague, and maybe one for yourself while you're at it -- at such a steal, you'd be hard-pressed to find a reason not to gift this one left and right!

For a complete list of chocolate-filled options, take a look at our complete inventory of Chocolate Gift Baskets to find one that's right for you. Want to throw in a little something to wash it all down with? Just order the Chocolate Shop Red Wine and Chocolate Tower, complete with a bottle of chocolate-infused red wine, and you're set!