Articles
Choosing The Perfect Corporate Gift Basket
Gift giving between businesses is big business. It's estimated that six out of ten companies give corporate gifts during the holiday season. And everyone from small business owners to Fortune 500 corporations recognize that gift-giving to their best customers and prospects is smart marketing strategy as well as sincere expression of thanks. Spending on something as seemingly simple as a holiday gift basket can have a big payoff if done the right way.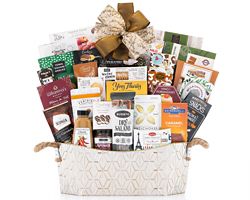 Thanking customers by giving them the perfect gift takes time and money, but the return on your investment is magnified by the good will it generates. The key to choosing the perfect corporate gift basket is to apply plenty of brain power beforehand and find the basket that perfectly represents the appreciation and sentiment your company wishes to express.

Whether you are the business owner or the person your boss picked to be in charge of this year's gift giving, it can be hard to figure out which of your clients to give to, and what to give them. But it's an important process. Your goals in giving a corporate gift are both to thank the recipient for the business they have done with you already and to ensure that your company gets to the top of the list for their business in the future. A gourmet gift basket puts fond thoughts in the minds of the customers who enjoyed the delicious gourmet food items in it, and keeps your business visible in the midst of the holiday hustle and bustle.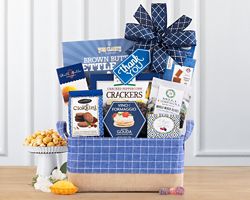 Here are the steps you should consider in your business gift decision-making process. These tips will make corporate gift-giving a breeze and put the biggest smile on your clients' collective face.

Before you pick a gift, you have to pick the recipient. And before you pick a recipient, you have to know your budget. If your department head has given you a budget at the outset, that's great. Otherwise, decide on your company's gift budget at the same time you put together the list of the clients, prospects, vendors, consultants, advisors, suppliers, and service providers who you want to thank.

If your budget won't allow for a gift for everyone on your list, it's makes better business sense to give to the customers who have generated the most revenue for your company and the ones whose continued business is most important to your company. If you want everyone to get something for everyone but your budget is limited, you can budget more for your bigger clients and less for your smaller clients. You should also think about gifting to potential clients if you think the gift will generate good-natured buzz that could lead to future business.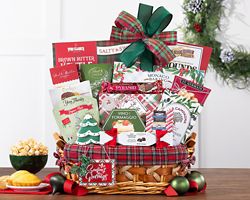 Gourmet gift baskets make outstanding business gifts because food and beverages are the most popular category of gifts. So, putting delicious gourmet food like chocolate, candy, cheese spread, crackers, wine, tea, coffee, or cocoa into a gift basket is the convenient way to combine the most popular corporate gift items into the container that is guaranteed to wow your customers and prospects.

Once you've decided on the dollar amount per gift basket and drawn up the list of lucky recipients, there is still some preliminary work to do before selecting the baskets. A threshold question is to find out whether the intended recipient is allowed to accept corporate gifts. You can't afford to skip this step. Some businesses have a policy that forbids receiving any corporate gifts. Some may only allow employees to accept gifts of a nominal value. Call the company's human resources department to find out if there are any limits on the receipt of corporate gifts.

If the company won't allow gifts that cost as much as your gift basket, ask if it would be okay to give the employees a token of your appreciation. These could be inexpensive items such as key chains, pens, or calendars with your company logo. Most companies will permit this even if they won't allow larger gifts. Or as an alternative to a corporate gift, many companies will permit a charitable gift. Ask if you can make a donation in the name of the recipient to your company's favorite charity or a charity of the recipient's choosing. The recipient appreciates the recognition, your company demonstrates goodwill, and both companies have contributed to a worthy cause. If all else fails, send a greeting card or a holiday card thanking the company for their business.

Now that you've gotten the go-ahead, it's time to pick the perfect gourmet gift basket!

At Wine Country Gift Baskets, we pride ourselves on selecting the highest quality red wine, white wine, and champagne for our wine gift baskets. It is important to do some research on the recipient's business culture when you are considering giving a gift basket with wine or other alcoholic beverages to a business client. A premium cabernet sauvignon, merlot, zinfandel, chardonnay, sauvignon blanc, or champagne will be among the basket contents most sought after and prized by corporate gift basket recipients. And a fine wine gift basket guarantees your thank-you gift will make a lasting impression on your clientele and stand head and shoulders above the other holiday gifts adorning the table in the company conference room. But it is important to check with knowledgeable persons in the company before sending a wine gift basket to make sure there are no restrictions on receiving alcohol as a business gift, and that giving wine would not be inappropriate based on any religious considerations or other aspects of the corporate culture of those receiving the gift.

The final consideration in selecting your corporate gift basket is the number of people who be sharing it. If you are you sending the gift to a small business or to a single person or key decision-maker within a large division of a large corporation, the size of your gift basket can be adjusted to be as large as your gift-giving budget will permit. If you are giving a holiday gift basket to express appreciation to a large company or to an entire department or team within a big business, your gift should be large enough so that all of the recipients will be able to choose one or more of their favorite gourmet food and beverage items.

For those of your most prized clients and prospects who will gladly accept wine as part of their corporate gift, Wine Country Gift Baskets offers a wide range of wine gift baskets that showcase multi-bottle packs, unique gift baskets with wine, single or double wine packs, fine wine gifts, premium champagne collections, and many other wine gift baskets filled with fine wine and gourmet food, to fit business budgets from small to large.


You can express your appreciation to cherished customers who do not wish to receive wine by giving them a gourmet gift basket from Wine Country Gift Basket's extensive high-quality selection of baskets full of fine food and gourmet snacks, including chocolate gift towers, fruit gift baskets, select gourmet gift baskets, gift towers, monthly fruit clubs, themed baskets, and many others. These gift baskets, filled with chocolates, crackers, meats and cheese, cookies, candy, dried fruit, and fresh fruit, are available to suit every business budget, and are sure to be gratefully appreciated by the companies you wish to thank.

Here are some of our finest corporate gift basket choices for businesses of every size and type.