Articles
Christmas Gift Baskets: Your One Stop Shop for the Holidays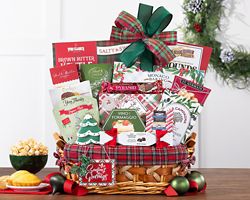 We know you have a long list of loved ones on your list this holiday season, and it's a tough task to find the perfect gift for each and every one. Running from store to store just crossing your fingers that you'll find something, while the countdown to Christmas is ticking in the back of your head, is no way to get in the holiday spirit. We at Wine Country Gift Baskets understand that you want to find personalized gifts at an affordable price that you know will light up your recipient's face -- so we're making it easy. We've curated a list of our most loved Christmas and holiday gift baskets to make this holiday season the best one yet. Check out some of our favorites below, or for the complete list, just shop our Christmas gifts and a delicious gift basket will be at your recipient's doorstep before you know it!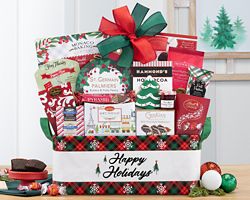 The 12 Days of Christmas Tower is truly a holiday staple. Piled high with cookies, candy, chocolates, and other sweet treats, this charming and seasonal stack is not only decorative, but delicious. Six boxes, each designed to reflect the classic 12 days of Christmas, feature an assortment of Ghirardelli chocolates, Lindt Lindor truffles, Godiva truffles, almond tea cookies, 4 hand-iced holiday cookies, vanilla caramels, Popcornopolis popcorn cones, and so much more.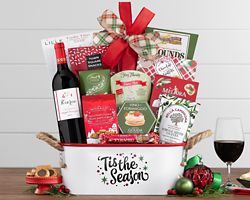 Need something a little more upscale for the wine-loving friend or relative? Try the Wine Country Holiday Treasures basket, which features three exclusive Wine Country Gift Basket wines: Vintners Path Winery cabernet sauvignon, Cliffside chardonnay, and Eastpoint moscato. As if this wasn't already enough, these wines come paired with gourmet selections of Ghiradelli and Godiva chocolates, cheese spreads and crackers, Monica's brownie crisps, and a handful of other delectable seasonal treats. Take all of these goodies and wrap them up in a red and white basket, and this holiday gift is sure to be a huge hit!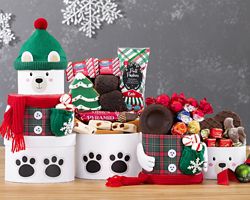 Looking to keep it simple with a token gift? The Gingerbread House Ornament package comes with three charming and festive tree ornaments, perfect for gift exchanges, showing appreciation to a teacher or coworker, or event jus hanging up in your home around the holidays. And since you'll have 3, you can do it all with one quick order! These gingerbread houses are decorated in Christmas colors with candy accents, and come with a tassel so they're ready to go right out of the box.

Do you have someone extra special in mind that you want to spoil this year? Consider the Holiday Extravaganza gift basket, an extravagant assortment that is sure to impress. Practically made of holiday cheer, love, and well wishes, the Holiday Extravaganza basket measures two feet wide and is overflowing with our customers' seasonal favorites. From vanilla caramels, toffee almonds, and Godiva creme brulee truffles to stone ground mustard, smoked salmon, and Gouda cheese spread, this basket is designed to satisfy just about everyone.

Check out the rest of our Christmas gift baskets to select the gift that fits your exact needs. Take advantage of our simple online ordering tool and speedy shipping, which comes free on most baskets, to ensure that all your gift baskets make it to their destinations before the Holidays.