Articles
From Gift to Gourmet: Taking Your Gift Basket up a Notch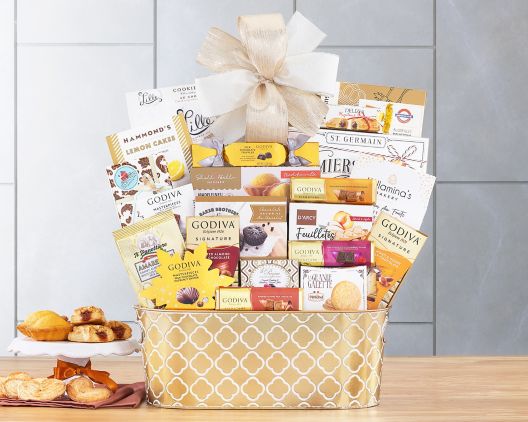 Every one of our specially designed and hand-crafted gift baskets is sure to impress your lucky recipient, but if you're looking to go above and beyond, we've put together a section just for you. Our Gourmet gift baskets are designed with only the highest quality food selections from renowned brands, guaranteed to leave a lasting impression. We are dedicated to seeking out the finest flavors and ingredients and sharing those with our friends and customers so that you can then pass along the spirit of Wine Country Gift Baskets to your loved ones. Take a look at some of our most popular gourmet gift baskets below, or visit the complete Gourmet Gift Baskets section to find a quality basket for every budget.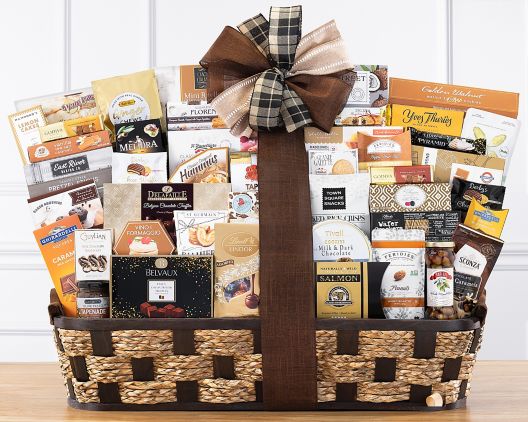 Godiva Pure Decadence
With decadence right there in the name, and a basket full of gourmet chocolates, there's no question as to why this is a Wine Country favorite. A selection of Godiva chocolates, truffles, bars, and candies for the sweet tooths in your life come served in a beautiful gold basket. If your goal is to deliver indulgence, look no further -- the Godiva Pure Decadence is a chocolate lover's dream come true.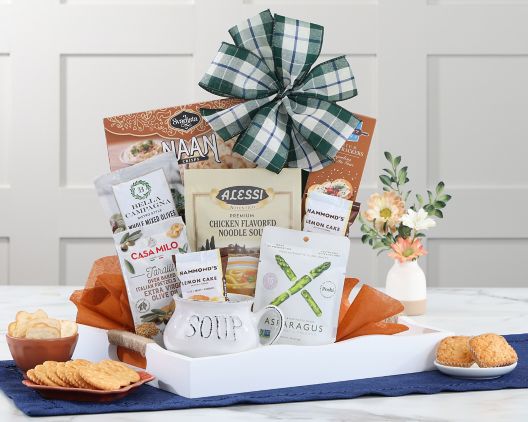 Lasting Impression
Measuring nearly 3 feet wide, the Lasting Impression basket is packed to the brim with our finest gourmet treats ranging from the most indulgent desserts to satisfying and savory snacks. With a little something for everyone, this basket is perfect for sharing amongst your fellow foodies and friends.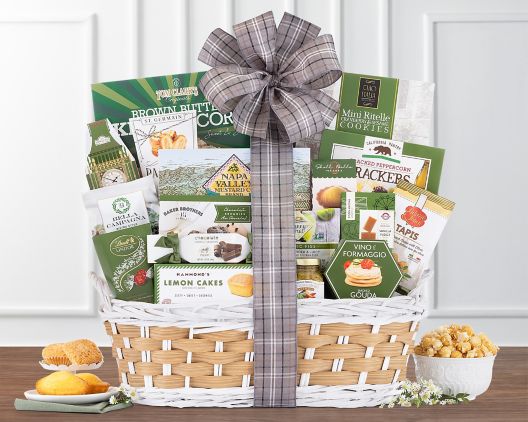 Wine Country Gourmet Platter
This assortment of gourmet selections comes elegantly stacked on a beautiful serving tray, perfect for any occasion, all year round. Gift this collection of our favorite gourmet foods and beverages as a Thank You or Congratulations to a special someone, or pick one up for the next time you're entertaining guests. With the Wine Country Gourmet Platter, which includes Don Francisco's French Roast Coffee, Lily O'Brien's chocolate chip cookies, Sonoma Jacks Garlic & Herb Cheese Spread, and much more, you truly can't go wrong.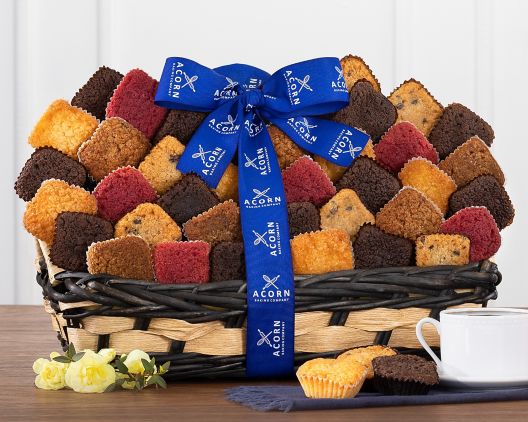 Gourmet Chocolate, Caramel Popcorn Tins (3-Pack)
If you're looking to stray from the traditional gift basket, consider this assortment of Hammond's Candies Drizzled Delights. Each order includes three separate tins of these tasty treats, filled with a carefully crafted combination of caramel kettle corn topped with almonds and cashews, and drizzled with chocolate and caramel for the finishing touch. Show your appreciation to friends, family, and colleagues alike -- or keep a tin (or two) for yourself, we won't tell.
Deluxe Cutting Board Collection
Delivered atop a high-quality bamboo cutting board, your recipient will receive a bounty of savory snacks perfect for a barbecue, tailgate, charcuterie board, or even just a lunch to look forward to. Stack Bavarian pretzels, Daniele Salame Picante, Portland Hills smoked gouda cheese, and Napa Valley stone ground mustard for a hearty snack, and finish with a handful of Monica's brownie cookies or Godiva milk chocolate truffles if you're looking for a decadent dessert.

Want to add a couple bottles of fine wine to your gourmet gift basket? Explore our selection of Fine Wines Gifts that come paired with gourmet snacks, designed to satisfy any wine connoisseur. Be sure to check back often, as we get small allotments of rare or exclusive wines that are only available for a limited time!