Articles
Gift Basket Ideas for the Perfect Picnic
Picture this. You and a loved one are sitting on a blanket at the beach, underneath a clear blue sky. It's sunny and 75, mid-July, and you have nowhere to be and nothing to do all afternoon except watch the waves crash and the sunset. The moment is almost perfect, but you're missing just one thing -- a picnic basket baskets! Our gift baskets at Wine Country Gift Baskets come stocked with all of the finest gourmet ingredients for a truly exceptional picnic, not to mention a bottle or two of one of our favorite wines to make it that much sweeter. So pick up a gift basket and a blanket, and head out for the day. Read on for some tips on how we like to put together the perfect mini-feast to enjoy under the light of the sun.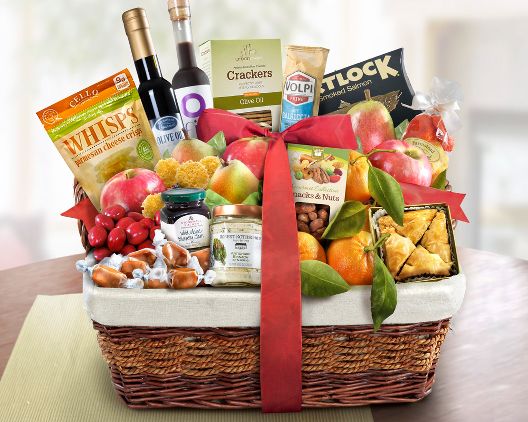 Fruit
Any good picnic begins with a hearty helping of delicious fruit. Dried or fresh, fruit is a major player in many of our baskets, like the Ultimate Fruit & Gourmet Collection, for example. Slice up a couple apple, pears, and kiwis to get a fruit salad started, or dip your fruit straight into the chocolate and caramel sauces that come as a part of this incredible basket. Want more like this to mix it up for next time? Try the Ultimate Fresh Fruit, Sweet & Savory Collection, which also comes with chocolate covered cherries and blueberry jam -- what's not to love?
Cheese
Any foodie knows that nothing complements a plate of fruit quite like a good gourmet cheese. Try pairing the asiago cheese spread in the Wine Country Fruit & Favorites basket with the crisp red apples, or the Sangria Fiesta's garlic & herb cheese spread with the fresh pears. Baskets like the Cheese and Cracker Collection are also the perfect picnic addition, as they make it easy to grab & go, cheese and crackers at the ready!


Meat
Time to round out the complete Charcuterie board with a no-grilling-involved gourmet meat, like salami, salmon, or another savory favorite. Try our Meat and Cheese Savory Assortment, which includes a delicious Hillshire Farms summer sausage, paired perfectly with a jar of stone ground mustard, or our A Cut Above basket, which includes Danielle artisan smoked salami. We recommend slicing up your meats and cheeses for easy stacking on top of your favorite crackers or pretzel chips, then finish it off with a dollop of mustard or your sauce of choice.
Dessert
Whether your vice is chocolate truffles, cookies, brownies, or even baklava, you can count on us to satisfy that sweet tooth. After your meal of fruits, meats, and cheeses, finish off with a few chocolate peanut butter cups or English toffees, both of which can be found in the Rocky Mountain Collection, or a handful of Monica's brownie bites, found in The Grand Assortment and other gourmet baskets.
Wine
Don't forget to bring a little something to wash it all down with! Pick up this Blakemore Cabernet Assortment or any of our wine gift baskets to take your picnic up a notch.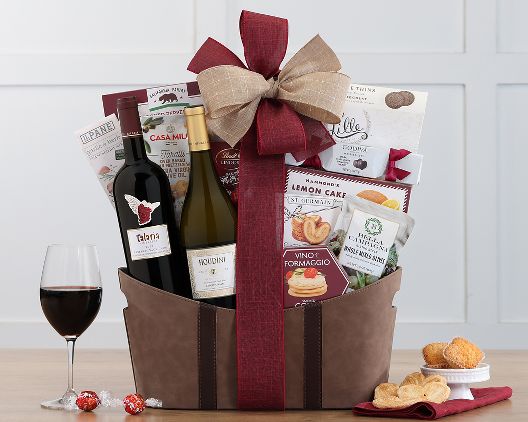 Extra gadgets & goodies
We've made it easier than ever to pack for a picnic by including some of the necessary tools of the trade right there in the basket. The Deluxe Cutting Board Collection, for example, comes with a cheese knife and deluxe bamboo cutting board, all the serving tools you need for a meat & cheese centered picnic. And if you brought a bottle of wine into the mix, don't fret, as many of our wine gift baskets, like the Napa & Sonoma Duet, come with a wine stopper or opener.

Now that you're up to speed on what all goes into the perfect picnic basket, find one tailored to you at winecountrygiftbaskets.com, or get started stocking up on some of your wine country favorites to build one yourself!