Articles
Gift Baskets for Every Man in Your Life
Stuck on what to get your dad, brother, son, friend, boyfriend, or husband this holiday season? Unless they're a chocolate fiend or a bona fide wine connoisseur, it can be tricky to find just the right gift -- and, of course, you want to be confident that whatever you give them will be something they'll use and love. Check out these five gifts for some out-of-the-box (and into the basket) ideas for every man in your life.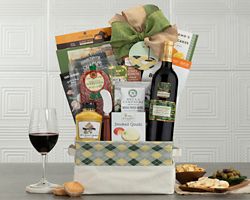 Hole In One Merlot Collection
Got a golf enthusiast on your gift list? Our Hole In One Merlot Collection Gift Basket includes everything from honey mustard pretzels and an onion dip mix to Daniele Salami and a bottle of Windwhistle merlot. Top that off with a bamboo cutting board, cheese knife, and wine stopper, and present it all in a golf bag-shaped cooler, and you have the perfect gift basket for a day on the course. If your gift recipient isn't big on the red wine, check out the Hole in One with Chardonnay or our standard Hole in One Gift Basket for an easy alternative.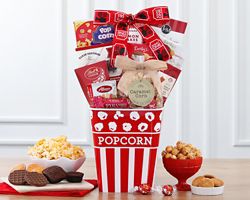 Movie Night Popcorn and Candy Collection
Whether this man is a movie buff or just a popcorn fanatic, our Movie Night Popcorn and Candy Collection gift basket is sure to be a crowd-pleaser. Served in a large popcorn tub designed to elicit the nostalgia of the real thing, this collection comes packed with chocolate caramel corn, cookies, tootsie rolls, and, of course, the classic butter popcorn with optional seasonings. Don't worry, we threw in four additional individual popcorn tubs to encourage sharing -- though with treats this delicious, we can't promise anything.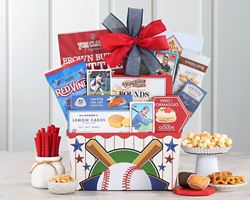 7th Inning Stretch
We created the 7th Inning Stretch gift basket with your favorite baseball fan in mind, and you're sure to hit the ball out of the park with this one. Inspired by America's tried & true pastime, this festive baseball-themed basket includes all the classic ballpark favorites -- peanuts (still in the shell, of course), Cracker Jack, kettle corn, David original sunflower seeds, Baby Ruth candy, and much more. To make this gift a true authentic, we've also added four assorted baseball cards and two reusable red cups, perfect for tailgating or for bringing that ballpark feeling back home.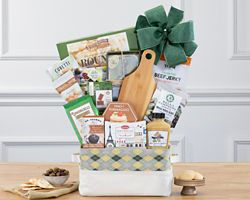 Hole in One
Whether they're tailgating at their alma mater or hosting friends and family for their annual Super Bowl party, your football-loving man is going to light up when they see what the Gridiron Football Classic gift basket has to add to the mix. This assortment of Bavarian pretzels, cashew Roca, mozzarella cheese swirls, salted peanuts, honey mustard dipping sauce, peanut crunch, and jalapeno & cheddar dip comes complemented by two reusable red cup tumblers with lids and a stadium themed serving tray.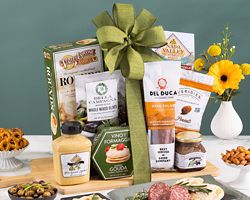 Deluxe Meat & Cheese Savory Assortment
We're breaking away from the pack a bit with this Deluxe Meat & Cheese Savory Assortment gift basket, sure to satisfy anyone with a taste for quality savory snacks. The gourmet selections in this assortment include Hillshire Farm Summer sausage, Bavarian style pretzels, Napa Valley cheddar bar, fruit & nut mix, baked sesame crackers, sea salt pasta chips, cheddar cheese straws, smoked gouda cheese spread, Napa Valley stone ground mustard, toffee almonds, butter toffee peanuts and vanilla sea salt caramels. He can create a Charcuterie plate for his next party with the included bamboo cutting board and cheese knife, or indulge solo -- either way, these tasty treats won't last long.

Whether you're gathering gifts for Father's Day or have a long list of men on the Christmas list, be sure to keep Wine Country Gift Baskets in mind. With high quality, themed, and fan favorite gift baskets regularly being added to our roster, we're sure you'll find what you're looking for time after time.