Articles
Gift Baskets for Her: From Grandma to Girlfriend and Everyone in Between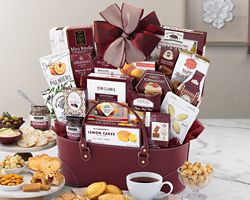 Do you recall a time when you were tasked with finding the perfect gift for one of the many special women in your life, and just didn't know where to start? Is that time right now? If so, then you're in luck. We understand what it's like to have to sift through hundreds, if not thousands, of gift options to make a selection, and sure, everyone likes having plenty of options, but sometimes having too many can be overwhelming. Below we've listed a couple of our favorites here at Wine Country Gift Baskets, each designed to show appreciation in a special and personalized way.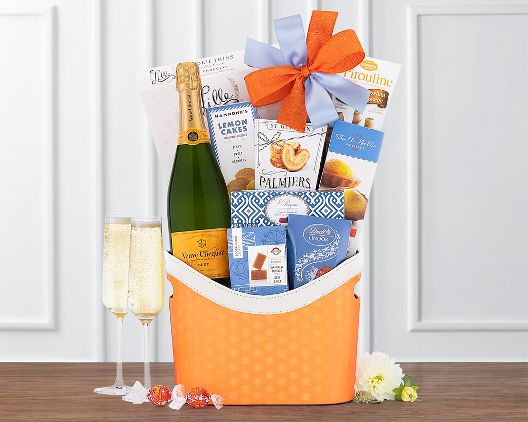 For Your Mom or Grandma
Give mom a gift she'll truly appreciate this year. For Mother's Day, Christmas, her birthday, or just to say "Thank You," one of our unique spa collection baskets is sure to do the trick. The Great Escape gift basket, a customer favorite, comes stocked with a delectable mix of cranberry pomegranate scented spa products including shimmering body lotion, bath salts, body mist, linen spray, shower gel, foot soak, bath caviar, body scrub, bar soap, body butter, bubble bath, sponge, shower brush, and eye mask. Top that off with a couple microfiber towels and a pair of slippers for a final touch, and you've got yourself a basket worthy of the greatest mom around.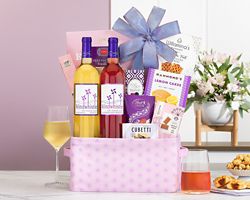 For Your Wife or Girlfriend
Treat your significant other to a gift of gourmet treats and world-renowned champagne. The Veuve Clicquot basket is centered around a bottle of Veuve Clicquot Yellow Label champagne, complemented by Godiva milk chocolate truffles, rosemary olive oil crackers, hazelnut wafers, Lindt milk and dark chocolate truffles, cheddar cheese biscuits, roasted garlic and onion dip mix, toffee almonds, and a Lambertz cookie collection. This chocolate gift basket is sure to impress any champagne aficionado, but if chocolate is a little more her speed, we've got you covered there as well. The Godiva Extravanganza basket is overflowing with over a dozen different types of chocolates and truffles -- or, for a smaller alternative, consider the Rocky Mountain Chocolate Factory Tower, with over nine varieties of Rocky Mountain Chocolate Factory favorites.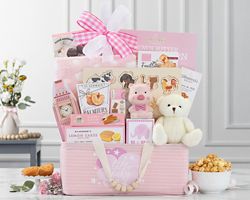 For Your Sister or Best Friend
Whether you want to go big with the Deluxe Girls Night Out gift basket, or opt for something simple like the Girl's Best Friend Red Moscato Collection, Wine Country Gift Baskets has the perfect bundle to gift your best friend or sister. The Deluxe Girls Night Out collection contains two bottles of wine (Windwhistle Moscato and California Red Moscato) in addition to a large assortment of sweets and candies, complemented by fun coasters, cups, cooler bags, and a wine stopper. The Girl's Best Friend Red Moscato Collection, featuring a Windwhistle sweet red moscato nestled in a zebra striped stiletto wine holder, is the perfect gift for those looking to buy for multiple people.
For the New Mom
Congratulate a new mom and help her celebrate this big step with the Bundle of Joy Basket in pink or in blue, perfect for a baby shower or to welcome her and baby back home. This themed basket includes a stuffed animal and other baby-friendly toys and games, in addition to chocolates, candies, cookies, and tea for mom -- a much deserved treat! Check out our full New Baby gift basket section for a variety of basket types and treat for new moms.