Articles
How To Personalize A Pre-Made Gourmet Gift Basket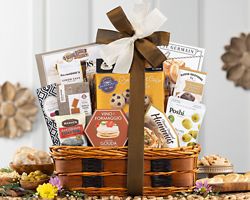 Giving a beautiful gift basket full of fine wine and gourmet food is sure to surprise and delight the folks on your gift-giving list. A well-designed gift basket pleases the eye and tempts the palate. Its visual appeal draws you and in and the scrumptious snacks make your mouth water and your stomach rumble. You can put together a gift basket yourself, but it's a lot of work to find the right ingredients and the right basket and put them all together in a way that will perfectly express your love and appreciation.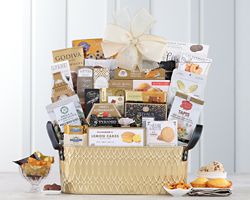 That's why ordering a gift basket is such a perfect solution to any gifting dilemma. Why not take advantage of the impeccable design and top-quality ingredients found in each and every selection at Wine Country Gift Baskets? We have taken all the trouble out of having to shop around for the perfect gift basket. We travel the globe sourcing the finest wine and gourmet food for our gift baskets. All of our holiday gift baskets, special occasion gift baskets, wine gift baskets, and gourmet food gift baskets have been impeccably designed and skillfully crafted to make sure your basket lights up the occasion. We've done the work for you. It's convenient. And it's a gift they will cherish.

With the hard part out the way, you have extra time to add your personal touch to the gift basket to make it even more special. Have the gift basket shipped to yourself so you can personalize it. When it arrives, carefully take it out of the box, and clear out some space on the dining room table or the living room floor. Try one or more of the following tips, and make your gift basket a unique and special expression of holiday wishes, congratulations, thankfulness, or just plain appreciation, that's straight from your heart.
Hang Tags. Add an extra touch of class to bottles of wine with personalized hang tags. Perfect for multi-bottle wine packs, wine gift boxes, wine gift baskets, and varietals. A beautiful hand-lettered hang tag will make each bottle stand out. Use an interesting cord to make the tag loop: glittery elastic cord will reflect the light, while twine provides a rustic touch. Use a calligraphy pen to create fancy script monograms that indicate which bottle is for which recipient. Make your own one-of-a-kind hang tags from scrapbooking paper or decorative cardstock with fanciful patterns and textures.
Note Card Signposts. Attach a small card to the top end of a popsicle stick using white glue, hot glue, or tape. Plant each stick like a signpost into the crinkle cut paper or shredded excelsior used as the gift basket filler. On each sign, write a personalized note to each individual you're giving the gift basket to. For a corporate gift basket, you can top each signpost with a business card from each of your co-workers, colleagues, and team members who are sending their season's greetings. Add pleasing elements of visual interest to the cards by cutting them into different shapes. Try rounding off the corners and creating shaped edges. The best tools to do this are craft scissors that have scalloped or wavy blades, or a patterned edge punch.
Ribbon. Brightly colored ribbon is a de rigueur gift basket accessory. It's one of the best ways to turn a basket into a celebration. You're almost certain to find that the gift basket you ordered comes wrapped with a long ribbon or topped with a joyful bow. And there's no reason to stop there. Tie on streamers of additional ribbon as a personalized accent. It lets everyone know they're getting a truly personalized gift basket that shows how special they are to you. Personalized ribbon works no matter the holiday or the occasion. It adds good cheer whether it replaces or sits right next to the ribbon that came with the basket. Show school spirit by tying on ribbon in the old college colors. For a "thank you for your business†gift basket that is guaranteed to stand out on the reception desk, trim the basket with pennants of ribbon in the colors of the client's corporate logo.
Mylar Ballon. Similar to the ribbon but with even more flare. Whether it's for the holidays, birthday, anniversary, I love you or get well – you can find a mylar ballon to add to your gift basket to really speak to the recipient and everyone else who walks by.
Personal Delivery. The most personal touch of all is the one only you can provide–putting your pleasingly personalized Wine Country Gift Basket straight into the arms of the person or persons you've customized it for. A cross-town trip, gift basket in hand, to see a special someone or a valued client is a trip well worth taking. You will see their faces light up as they unwrap the amazing wine, food, fruits, savories, and sweets in the basket you've chosen. And you'll know they will remember the thought and care you put into making their gift basket a personal expression of gratitude.
When the miles that separate you mean it's not possible to deliver your gift basket in person, many of our most popular gift baskets include free shipping. We also offer a FREE personalized gift card or you can easily upgrade to a premium gift card and include your personal message for them.