Articles
Say Happy Birthday with a Basket
Birthday cards? They're alright. Balloons? Been there, done that. But a birthday gift basket? Now that's what we're talking about. Take the extra step to show someone you care by sending them a gift basket filled with all of their favorite treats, and wish them the happiest of birthdays in a way they're sure to remember for years to come. Check out some of our favorite birthday gift baskets below, or shop our entire selection here.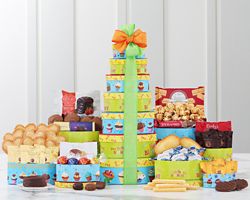 Best Wishes
A true birthday classic, the Best Wishes tower is built to put a smile on anyone's face. Before they even open up this delivery to find all the goodies inside, your grateful recipient will be beaming over the bright and festive packaging designed to look like a classic stacked birthday cake. Once they start digging into the boxes, they'll find everything from butterscotch hard candies, almond tea cookies, and peanut crunch candies to vanilla caramels, birthday cookies, and chocolate hazelnut wafers. Check out the Make a Wish tower for another equally impressive option. Either of these birthday baskets are a great go-to for anyone on their special day.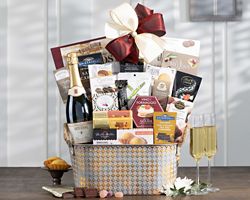 Houdini Blanc de Noir Champagne Collection
Help a loved one celebrate their big 21st birthday with a bottle of bubbly! Send them one of our customer favorites, the Houdini Blanc de Noir Champagne Collection, which comes with all the sweet and savory fixings in addition to a bottle of Houdini's Blanc de Noir vintage Carneros champagne. This basket has everything they'll need to celebrate their big birthday, including Godiva and Ghirardelli chocolate truffles, walnut cookies, Sonoma Jacks cheese wedges, sea salt olive oils crackers, and much more.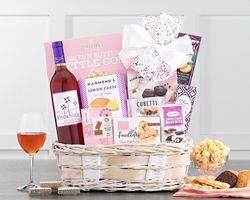 Windwhistle Sweet Moscato Assortment
This two-bottle basket is great for anyone with a taste for sweet wines. The Windwhistle Moscato and Red Moscato bottles, both 2013 Bronze Medalists in the Grand Harvest Awards Wine Competition, come paired with Ghirardelli chocolates, Lille chocolate cookie thins, Mariani dried fruit and nuts, blood orange honey candy, and more. This gift is especially great for a girls night in, so perhaps hand deliver it with two wine glasses and a movie, so you and your friend can celebrate her birthday with great company and loads of delicious treats.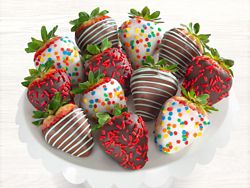 Birthday Dipped Strawberries
A classic re-purposed, this box of a dozen chocolate covered strawberries comes drizzled in colorful chocolate and coated with rainbow-colored sprinkles -- and very few things say "Happy Birthday" better than rainbow-colored sprinkles!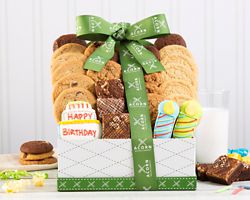 Deluxe Happy Birthday Cookie Collection
Whether you don't have the time or you don't have the resources, sometimes it can be difficult to bake up a fresh batch of homemade cookies no matter how much you want to add that personal touch. Find another way to send that same sentiment with this box of fresh baked and hand-frosted cookies from Acorn Baking Company. This signature box of 20 cookies contains a variety of flavors including chocolate chip, peanut butter, sugar, and white chocolate macadamia, all tied up in a bow and ready to send - and best of all, no baking required!