3 of Our Favorite Summer Drink Stations
Few things in life can top a warm sun, cool breeze, and a backyard BBQ with friends and family. In our opinion, such occasions should happen every week of summer, complete with games, delicious food, laughter, and of course, a variety of yummy beverages to choose from. With the season drawing to a close next month, we encourage you to throw at least one more summer bash, and highly recommend you include one of these fun beverage stations for your guests. These popular crowd-pleasing drinks are sure to make your last party a memorable one!


Mimosa Bar
Light, refreshing, and perfectly sparkly, mimosas are easy to drink and even easier to customize. Served in a tall flute glass, mimosas are commonly made with equal parts Champagne and chilled citrus juice.
That alone can include many options, such as:
• Orange Juice
• Grapefruit Juice
• Lemon Juice
• Lime Juice
• Tangerine Juice

Instead of Champagne, you can also use any other sparkling wine that pairs well with citrus. Additional flavors come in the form of garnishes, set in separate bowls for guests to choose from. These are a few of our favorites:
• Summer berries, including blueberries, raspberries, strawberries, and blackberries
• Herbs, like mint and basil
• Lime wedges
• Pineapple chunks
• Frozen Peaches

Guests will be able to customize their mimosas many times, which will keep them coming back for more. Be sure to keep the bar well stocked.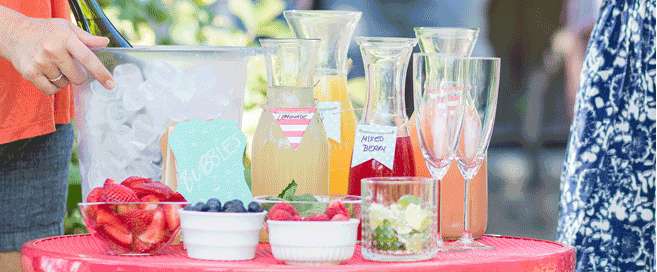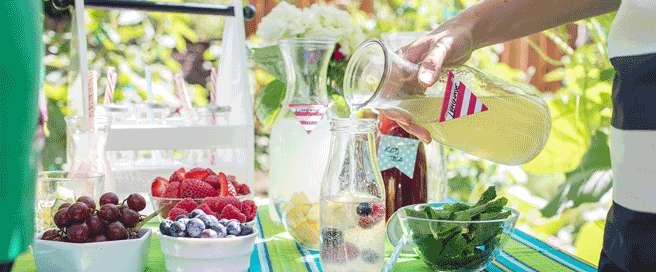 Lemonade Stand
This pairs well with any kid-friendly event, since lemonade can easily be served sans-alcohol. While similar to the mimosa bar, there are a few more flavors you can have fun with since you're not restricted by the taste of champagne. Beverages found at our favorite lemonade stand include:
• Lemonade
• Iced Black Tea
• Limeade
• Sparkling Water
• Mixed Berry Juice

The mix-ins and garnishes are where it gets fun:
• Fresh Lavender
• Summer berries, including blueberries, raspberries, strawberries, and blackberries
• Grapes
• Lemons and Limes
• Cucumber
• Peaches
• Watermelon
• Pineapple
• Honey

The list could go on forever! Lemonade is such an easy drink to customize, both adults and children will be thrilled with the options at hand. Decorate the table with sweet adornments and serve it up in mini milk jars, and you're set.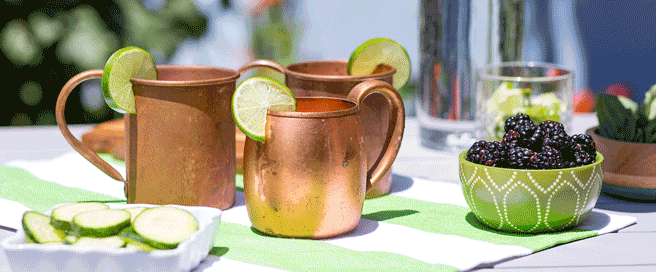 Moscow Mule Bar
A bit more sophisticated and unique, yet still effortless to offer options to your guests, a Moscow Mule requires vodka and ginger beer and is typically served in a copper mug. If you'd like to offer other liquor options, tequila and Cointreau will work just as well, and using bourbon creates an official drink called the "Kentucky Mule". The mix-ins are also endless, but here are a few we love:
• Orange Juice
• Blueberries
• Mint
• Cranberry Juice
• Raspberries
• Lavender
• Grapefruit Juice

A basic recipe to follow for Moscow Mules includes 5 parts authentic ginger beer, 2 parts liquor, 2 parts juice, and optional simple syrup, garnished with a lime wheel. Make sure you have a couple of cocktail shakers available to your guests, since a Moscow Mule is always better shaken, not stirred. Since this bar option is unique, we highly recommend including instructions on how to make them for your guests. Use a chalkboard and offer recipe ideas, or let them get creative with their own. All of these options are ton of fun for guests and hosts alike. If you'd like, you could even include a space for guests to share their recipes with each other - just like we have. We'd love to see our Facebook fill up with drink bar favorites and stellar recipes, so please share!