The Wines We Love, and Why
It's no secret that we are crazy about wine! That's why we make sure we offer a wide selection of flavors and varieties to our customers. We also work hard to provide complimentary flavors within our gift baskets, ensuring you're giving a fellow wine lover an unforgettable gift. Whether you're a light and fruity wine drinker, or you prefer a full-bodied red, we guarantee we have something you'll love.

Remember, finding the perfect wine for your taste buds doesn't have to be scary– it's truly all about trial and error until you stumble upon something you love. Explore ten of our beloved wine varieties below to discover a new favorite.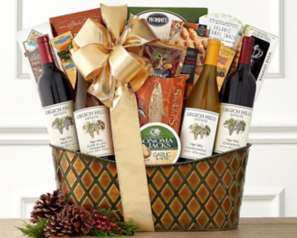 1. Grgich Hills Napa Valley Selection Gift Basket

This signature basket featuring Grgich Hills wines includes a chardonnay with rich honeydew flavors, along with a spicy zinfandel, velvety merlot, and refreshing fume blanc. Grgich Hills Estate is an "iconic Napa Valley winery, consistently producing world-class wines. Committed to natural winegrowing and sustainability, they farm five estate vineyards without artificial pesticides or herbicides, rely on wild yeast fermentation and use their passion and art to handcraft… elegant wines."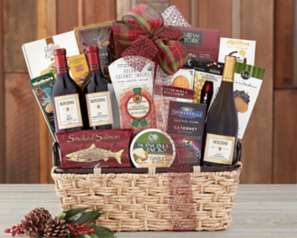 2. Houdini Napa Valley Cabernet Sauvignon

The 2015 Houdini Cabernet Sauvignon is a Gold medal winning wine. Harvested from the vineyards of Saint Helena in Napa Valley, it is rich in dark fruit. The wine is filled with flavors of cherry and barrel nuances and has a long, smooth finish. Houdini has been in the wine business, "sourcing and selling wine, for over 30
years…. They've tasted thousands of wines and met a variety of characters including some of the best wine grape growers and winemakers in California."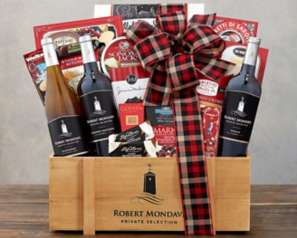 3. Robert Mondavi Private Selection Gift Basket

Three Robert Mondavi Private Selection wines are included within this gift basket, which include a rich cabernet sauvignon with cherry and blueberry flavors, creamy chardonnay and supple merlot. "Robert Mondavi Private Selection meticulously selects the finest grapes from their coastal vineyards to create wines that express each grape variety in the context of its origins."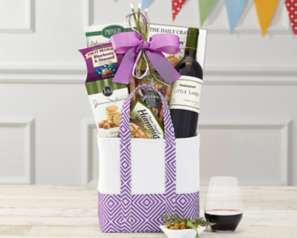 4. Little Lakes Cellars Cabernet
Little Lakes Cellars cabernet is a "youthful wine that has flavors and aromas of both red and black fruit. Rich ripe black cherries, blackberries, black currants and strawberries. Look for hints of fern and dried herbs as well as some nutmeg and clove." Little Lakes Cellars is a part of the Houdini wine brand.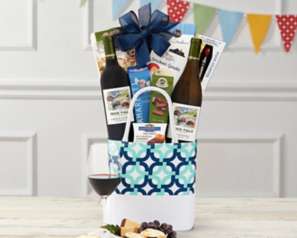 5. Rock Falls White Wine Duet Gift Basket
This gift is great choice for those who enjoy white wine. Rock Falls crisp chardonnay and sauvignon blanc are featured. The "medium bodied, creamy and round chardonnay is well balanced and finishes with toasty brioche notes. Flavors include pear and green apple and are well balanced with just the right acidity," according to Rock Falls.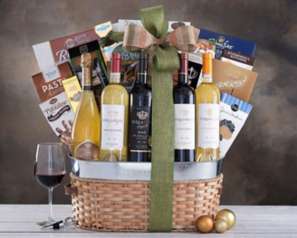 6. Stella Rosa Semi Sweet Wine Gift Basket
This basket contains Stella Rosa Moscato, Bianco, Black, Rosso, and Prosecco. Stella Rosa wines are sourced the region of Asti, a province in Piedmont, Italy. The first Stella Rosa wine was Moscato D'Asti, which has become a flagship of their wine line. "The rapid phenomenal successes of these two wines began the lineage of the L'Originale and Imperiale lines of Stella Rosa, which now boasts 16 distinctive flavors."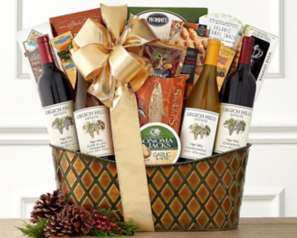 7. Houdini Vineyards Napa Valley Exclusive Gift Basket
Houdini Vineyards Napa Valley wines have won over twenty-five wine competition medals. The six bottles of wine included in this gift basket are: Napa Valley cabernet sauvignon, Napa Valley Chardonnay, Napa Valley merlot, Napa Valley pinot noir, Napa Valley sauvignon blanc, and Blanc de Noir Carneros.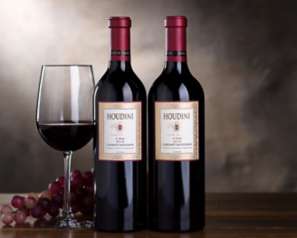 8. 2 Bottles Houdini Napa Valley Cabernet Sauvignon
The Houdini Cabernet Sauvignon is a Gold medal winning wine. Harvested from the vineyards of Napa Valley, it is rich in dark fruit. The wine is filled with flavors of cherry and barrel nuances and has a long, smooth finish. This red wine blends seamlessly into whatever you're doing, whether it's barbecuing burgers in the backyard, entertaining over the holidays, or stepping out for an upscale dinner.
We hope you're able to find a new favorite wine from the list above. If you're unsure of where to start, give our experienced staff a call today and they'll help you determine the best wine for yourself, or a fellow wine lover whom you're trying to select the perfect gift for this year. Cheers!