20 Unique Ways to Upcycle Wine Barrels
The very same barrels that spent years aging the wines (or the whiskey) we love so much have fallen into the hands of some creative home decor wizards, transforming them into very functional and cheap tables, bars, flower pots, serving trays, fire pits, and more. Pinterest is overflowing with these ideas!


But wait - then there are the truly niche items made from old barrels, or pieces of them, that deserve some gold-star awards for creativity. Check out our roundup for 20 of the most clever ideas for repurposing old wine barrels below.


1. Wine Barrel Swing
Made from just the staves (the rounded wood pieces), this swing is a beautiful and classy addition to anyone's backyard. Not to mention, it looks very comfy! Get it here.


2. Lazy Susan
A gorgeous addition to either your pantry or dining room table, this Lazy Susan makes sharing your favorite foods easy amongst your friends and family members. Or, it makes the spices just a little easier to access in your Pinterest-worthy pantry! Get it here.

3. Wine Bar + Rack
If wine is king in your boozy life, this sweet wine storage solution is perfect for tight spaces in addition to freeing up space your wine tools take up in the kitchen. Get it here.

4. Pet Bed
How cute is this idea?! No more cumbersome pet beds that are an eyesore in the home; let your furry friend relax in style and luxury at the bottom (or top) of a wine barrel! Get it here.


5. Barrel Ring Pendant Light
A neat conversation piece! Made out of the steel rings that reinforce the structure of the barrels, this Edison pendant light would look fantastic over a coffee bar, a wine rack, or any dark corner that could use a little pick-me-up in the house. Get it here.

6. Outdoor Coffee Table w/Storage
Sealed tight and perfect for those sweet summer nights, this outdoor coffee table made from a whiskey barrel is perfect for hiding blankets, garden tools, toys, and more. If you're clever with woodworking, a wine barrel would do just nicely, too! Get it here.

7. Decorative Winter Luminary
A marker, a drill, a bunch of white Christmas lights, and a lot of patience and you've got yourself a beautiful wine barrel lantern for your front porch. The source for this beauty is unknown, but if you're handy with power tools, it's easy to make!
8. Storage Ottoman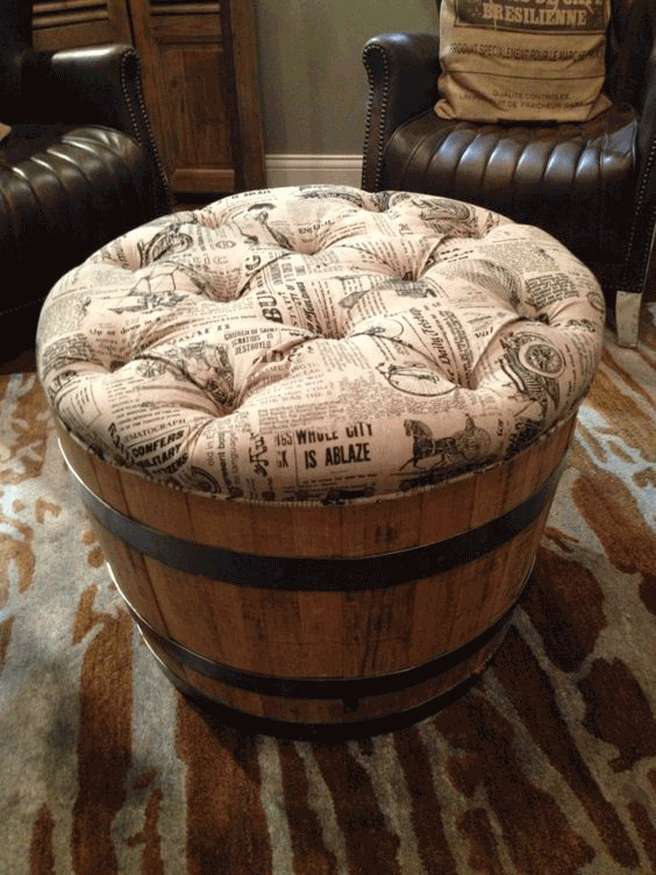 This storage ottoman is a sweet addition to any room that could use a little extra storage space. Blankets, toys, and more find a home beneath the cushioned wine barrel lid. Find one like it here, or use a few simple upholstery tricks and make your own.
9. Man Cave Dart Board Cabinet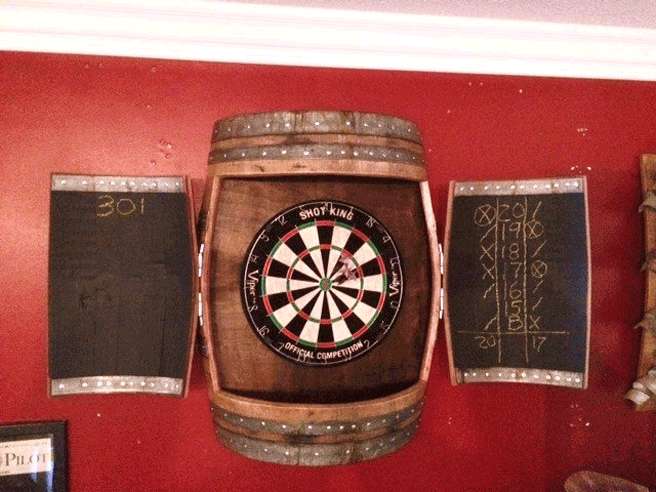 Add a rustic look to the man cave with this dartboard cabinet! The chalkboards let you keep score while the bottom of the barrel serves as storage for your darts. Get it here.
10. Vertical Succulent Garden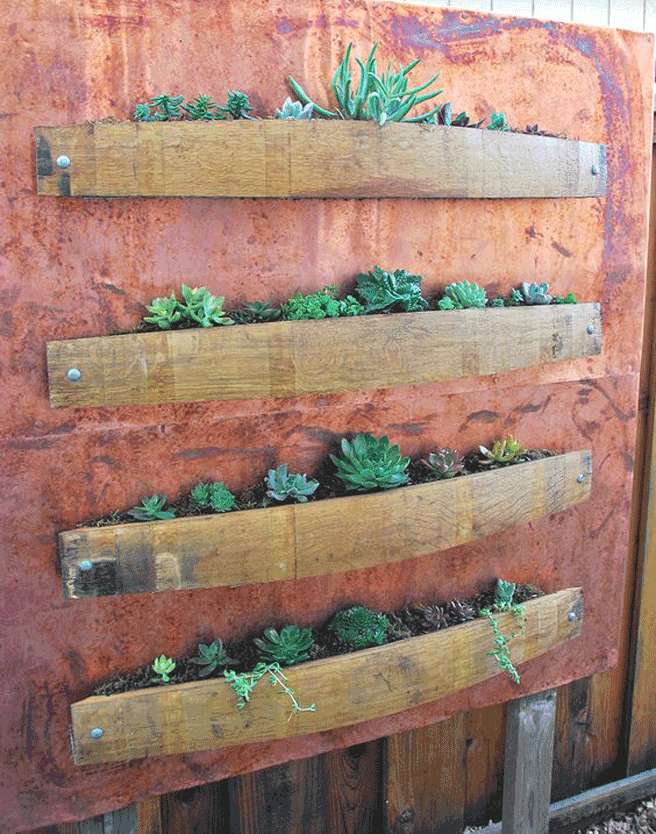 The wine barrel staves make gorgeous, boat-shaped planters when screwed to a backboard or the wall. Use some simple metal mesh or another piece of wood to form the bottom of these planter strips, and you're in business! Source for this idea is unknown, but once again, it's an easy DIY if you're handy.
11. Accent Wall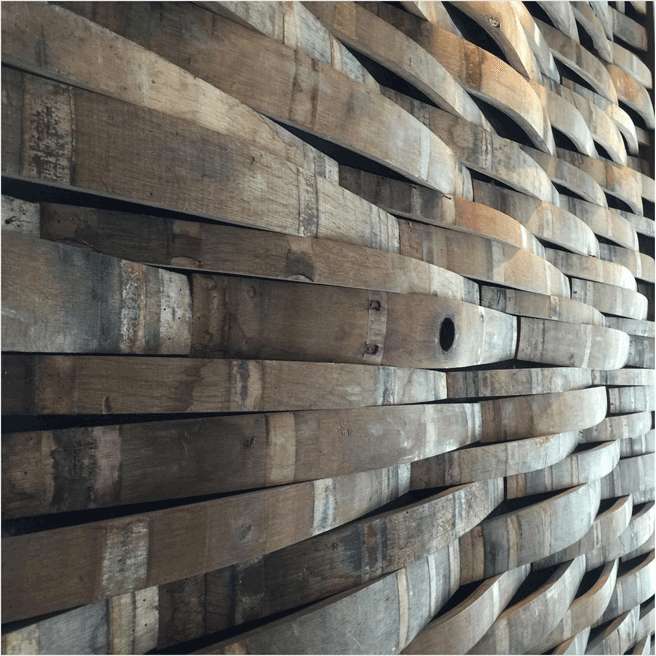 A super cool rendition of a shiplap or pallet wood accent wall, this wine barrel stave wall is stunning. Spotted on Instagram, there aren't any tutorials that we could find, but it was worth sharing anyway!

12. Spice Rack
A clever way to reproduce the general shape of a wine barrel on your kitchen wall, and spruce it up with some serious double-duty function. Store your spices here, or get creative and use it for coffee mugs, wine glasses, teas, essential oils, and more. Get it here.

13. Entry Table
Wood is wood, but the curved nature of wine barrel staves make anything you repurpose them very unique. In the case of this piece, the curved lines and barrel cork hole come together to form a gorgeous entryway or catch-all table. Get it here.
14. Wine Barrel Sink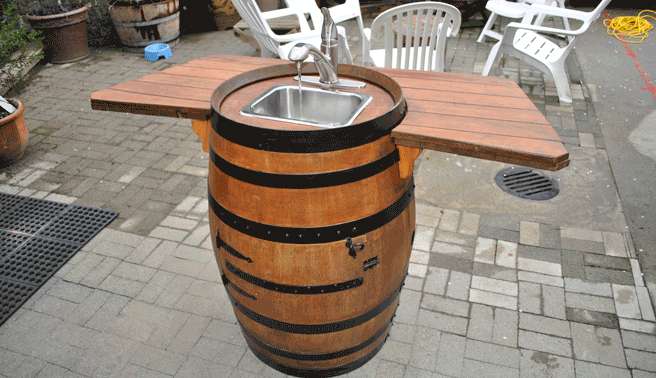 Small bathrooms call for small sinks, and a vanity made from a wine barrel may be just the thing. Or, it could make for a fantastic wet bar sink, outdoor kitchen sink, or really, a sink for anywhere a wine barrel would look cool! Find a great tutorial here.
15. Wood Basket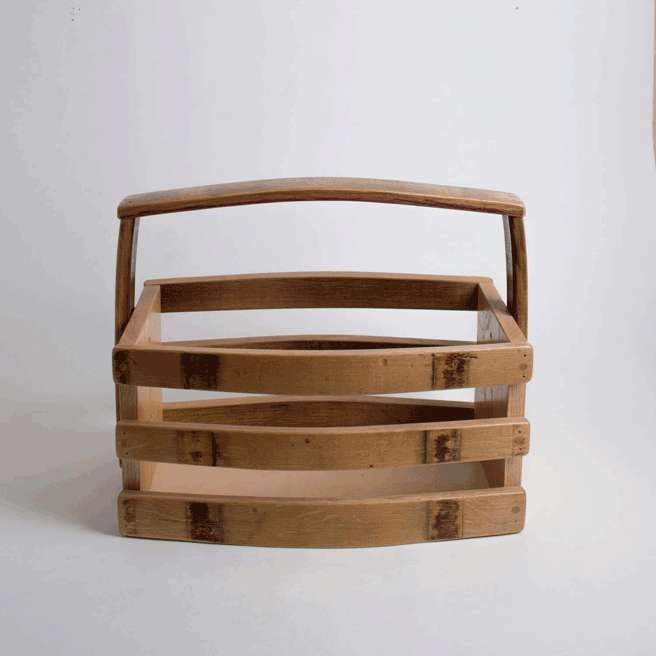 Isn't this too sweet? We can just picture this on a fireplace hearth filled with Christmas-y things during the holidays, or any number of knick-knacks, scarves, or even toilet paper. It would make an adorable garden tool caddy, too! Find it here.
16. Bottle & Glass Caddy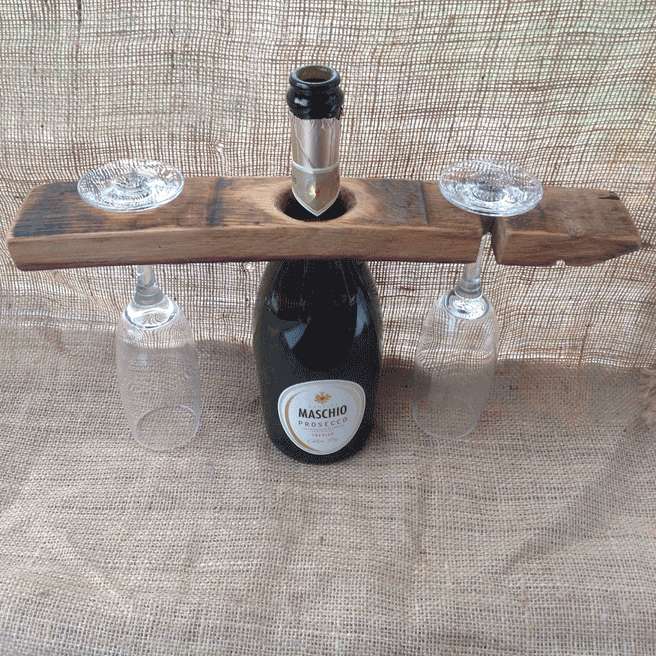 Perfect for on-the-go wine sipping, this caddy makes transporting your wine and wine glasses easy! Whether it's from the kitchen to the back porch or the wine cellar to the gardens, this simple, carved stave is an elegant way of getting it done. Buy it here or make your own by following this tutorial and using a stave instead of a plank of wood.

17. Stave Candle Holder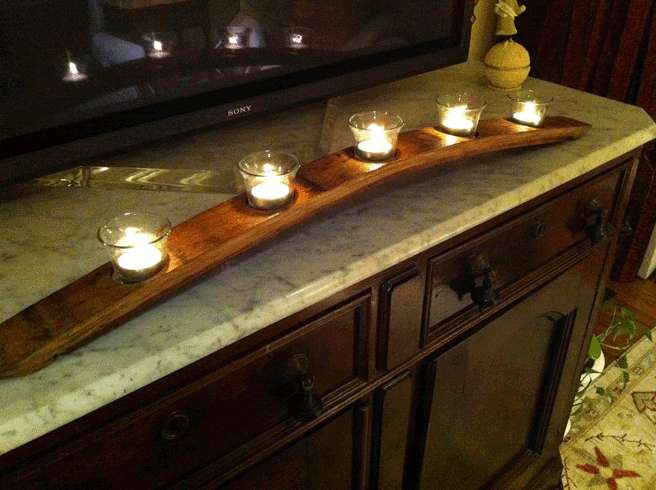 This is just gorgeous. A beautiful centerpiece for any table, accent for a mantel, or anywhere wide enough to accommodate it, we are partial to thinking that everyone should own one of these. Make your own with this tutorial.

18. Adirondack Chair Rockers
A company in San Diego is making these, along with other reclaimed furniture pieces, from old wine barrel staves. We're dreaming of summer evenings spent with a glass of lemonade on the porch, rocking in one of these cozy-looking chairs. Get it here.

19. Wine Barrel Smoker
It's almost unbelievable, but there are some very clever folks out there who took "barrel smoker" to an all-new level. Can you imagine the flavor the meat must have? Build your own following these instructions.

20. Wine Barrel Wine Bottle Rack
Of course, we HAD to mention a wine rack of some sort! Isn't this piece neat? It's fairly simple to put together, so if you're in need of a place to put your wine and have an old barrel sitting around, this is your answer! See the full tutorial here!