5 Holiday-Ready Whipped Cream Recipes
Whipped cream sales skyrocket during the holidays, but that's not surprising. With all the sweet pies and desserts flowing - not mentioning the increased hot chocolate creation - it's no wonder. We're convinced the following recipes are better than anything you can buy in stores though, and it's not just because you'll save a few dollars, either; these homemade flavors will take all your desserts next-level, and we hope they encourage you to experiment a little more in creating your own unique whipped cream flavors to compliment your staple family favorites!
All the below recipes call for 1 Cup of chilled Heavy Whipping Cream, which will top approximately 4 hot chocolates! Increase or decrease the recipes below according to your needs.
Directions for all whipped cream recipes below:
1. Chill your mixing bowl and beaters for at least 15 minutes.
2. Add 1 C. Heavy Whipping Cream and powdered sugar to the bowl, and using an electric mixer or stand mixer, whip until light and creamy, or until just before stiff peaks form.
3. Add the extracts and flavoring(s) called for in the recipe, then beat until stiff peaks form. Don't over-beat or the texture will not be creamy but will look a little more like cottage cheese - not ideal for whipped cream.


Peppermint Whipped Cream
Ingredients:
4 Tbsp. Powdered Sugar
1/2 tsp. Vanilla Extract
1 tsp. Peppermint Extract
Crushed Peppermint Candies, for topping


Pumpkin Spice Whipped Cream
Ingredients:
5 tsp. Powdered Sugar
1 tsp. Vanilla Extract
3 Tbsp. Pumpkin Purée (not pumpkin pie filling)
2 tsp. Pumpkin Pie Spice Cinnamon, for topping

Chocolate Whipped Cream
Ingredients:
4 tsp. Powdered
Sugar
1 tsp. Vanilla Extract 2 Tbsp. Chocolate Syrup
Cocoa Powder, for Topping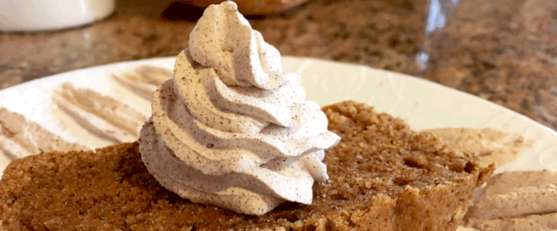 Cinnamon Whipped Cream
Ingredients:
5 tsp. Powdered
Sugar
1 tsp. Vanilla Extract
1 1/2 Tbsp. Powdered Cinnamon Extra cinnamon, for topping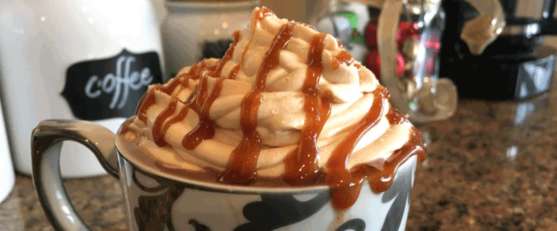 Salted Caramel Whipped Cream
Ingredients:
4 tsp. Powdered Sugar
1 tsp. Vanilla Extract
2-3 Tbsp. Caramel
Pink Salt, for topping