Homemade Spiced Chai Latte Mix – Vegan Option
Ingredients:
2 1/2 tsp. Ground Ginger
2 1/2 tsp. Ground Cinnamon
2 1/2 tsp. Ground Cloves
1 tsp. Ground Cardamom
1 tsp. Ground Allspice
1 tsp. Ground Nutmeg
1 tsp. Ground White Pepper
3/4 C. Instant Black Tea Powder
2 1/2 C. Vanilla Sugar
3 C. Powdered Nondairy Creamer, or:
3 1/2 C. Powdered Coconut Creamer (vegan option; we found ours in our local health food store, but you can some on Amazon.com)
Directions:
1. In a large bowl, mix the ginger, cinnamon, cloves, cardamom, allspice, nutmeg, white pepper, black tea powder, sugar, and powdered creamer together until well blended.
2. Store in a mason jar or other airtight container.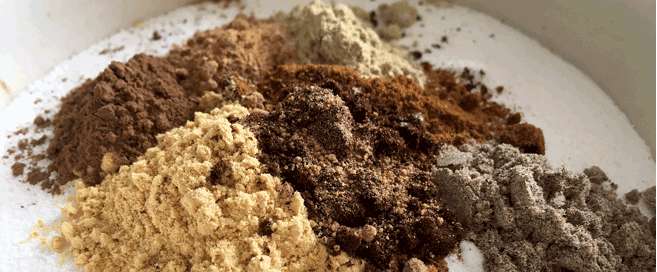 To make a Chai Latte:
1. Add 2 ½ tsp. of the mix into a warm cup of milk. Use more or less mix to alter the strength of the latte according to preference.
2. The mix has been crafted to be less sweet, so if you prefer your chai lattes sweeter, use more vanilla sugar, regular sugar with a splash of vanilla extract, or liquid vanilla stevia (low calorie option) to sweeten to taste. For a creamier flavor, add a splash of cream to the milk, or any nondairy creamer for the vegan option.