Mother's Day Recipe Roundup
We love our Moms! And while we enjoy showing them how much we appreciate them every day of the year, we like to go above and beyond on Mother's Day. It's no secret that we're foodies, so we're choosing to show our love this year with a full day of delicious, Mom-approved meals (and one amazing cocktail!) straight from the Wine Country Gift Baskets kitchen. If you want to join in on the fun, try out some of our go-to Mother's Day recipes below!


Strawberry Breakfast Crepes
These crepes are the perfect breakfast-in-bed for your Mom on this special day.

Ingredients:
2 Tbsp. butter
3 eggs
1 C. flour
1 Tbsp. sugar
1/4 tsp. salt
1 C. milk
Strawberries
Whipped Cream

Directions:
1. Thoroughly mixed butter, eggs, flour, sugar, salt, and milk until smooth.
2. On a large nonstick skillet over medium heat, pour approximately 1/4 cup of the mixture onto your griddle, tilting the pan until you create a thin circle of batter.
3. Once edges are light brown, after about 1 minute, use a spatula to flip the crepe and cook the other side for another minute.
4. Put the finished crepe on your serving plate and fill with whipped cream and strawberries to your liking!




Grilled Melon and Prosciutto Salad
This salad has become a brunch staple ever since we craft the recipe last year. Not only is it beautiful, but it packs a flavor and texture punch that will definitely impress the woman of the hour.

Ingredients:
4 C. arugula
12 slices prosciutto
12 Mozzarella balls, small
Melons of your choice (cantaloupe, honeydew, watermelon), cut into 1-inch slices with seeds removed
1 C. heirloom tomatoes, diced
Basil, thinly sliced
Salt & pepper to taste
Balsamic glaze for dressing

Directions:
1. Lay melon slices flat on your grill on Medium to High heat and sear for only 1 minute on each side, just enough to leave char marks.
2. Split the arugula amongst 4 plates, creating a bed for the rest of the ingredients.
3. Top with prosciutto slices, mozzarella balls, grilled melons, tomatoes, and basil, and drizzle with balsamic glaze.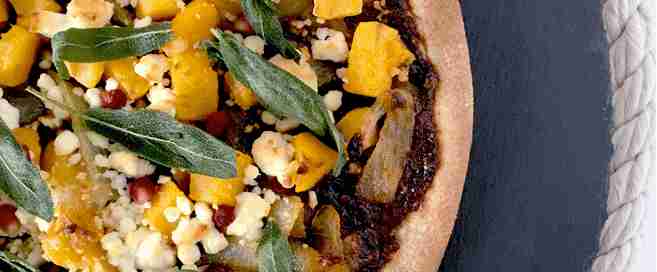 Pomegranate, Fig, and Goat Cheese Flatbread
Surprise Mom with a flatbread she won't be able to put down!

Ingredients:
1 Pizza Crust Fig Jam Butternut Squash, finely chopped Caramelized Onions 1 Tbsp. Olive Oil Crumbled Goat Cheese Pomegranate Seeds Fresh Sage 1 Tbsp. Melted Butter

Directions:
1. Preheat oven according to Pizza Crust baking instructions, and place your oven rack in the center of your oven.
2. Prepare your caramelized onions, but add butternut squash and olive oil to the pan 10-15 minutes before the onions have finished cooking. The squash should be softer, but still a little firm.
3. Lay an even layer of fig jam on your pizza crust, and follow with caramelized onion and squash mixture, goat cheese, and pomegranate seeds. Bake in the oven until crust is browned and goat cheese is 'melty', about 15-20 minutes.
4. While pizza is cooking, use the same pan you used for the onions and squash to prepare the sage leaves. Don't wash the pan in between, as you want the flavored oil! Melt 1 Tbsp. butter over medium heat in the same pan and add the sage leaves, "flash" cooking them for 2-3 minutes, and remove. 5. Once your pizza is done cooking, remove from the oven and top with sage leaves and additional pomegranate seeds if desired. Enjoy!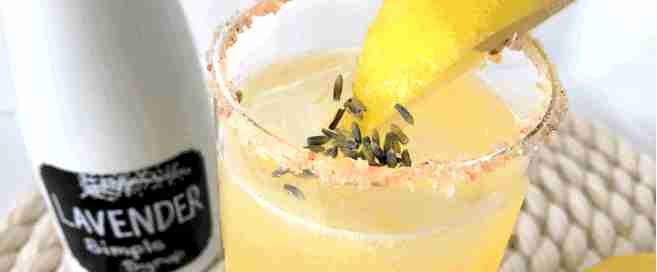 Boozy Lavender Lemonade
Upgrade your brunch with a homemade lavender lemonade with a boozy twist.

Ingredients:
For the Lavender Simple Syrup (makes about 1 cup):
1 C. Water
1 C. Sugar
2 1/2 Tbsp. Edible Lavender Buds

For the Boozy Lavender Lemonade (makes 1 glass):
1-2 oz. (2-4 Tbsp.) Vodka
8 oz. (1 C.) Fresh-Squeezed Lemonade
2 oz. Lavender Simple Syrup Splash of Champagne
Ice
2 Lemon Wedges
Additional Lavender Buds
Optional: Pink Himalayan Salt on the rim

Directions:
1. To make the Lavender Simple Syrup, bring water to a boil in a small saucepan and add the sugar and Lavender Buds. Simmer and stir until the sugar is completely dissolved, about 5 minutes. Remove from heat and allow to cool, then strain out the lavender buds and keep syrup in an airtight container.
2. Prep your cup by rubbing a lemon wedge along the rim of a tall glass. Optionally, dip the rim of the glass into the Pink Himalayan Salt before squeezing the lemon wedge in.
3. Combine the vodka, lemonade, Lavender Simple Syrup, and ice in a cocktail shaker. Squeeze the juice from the same lemon wedge you used to rim the glass, into the glass, and shake. Pour into your glass and add a splash of Champagne on top. Garnish with a second lemon wedge and additional lavender buds, and enjoy!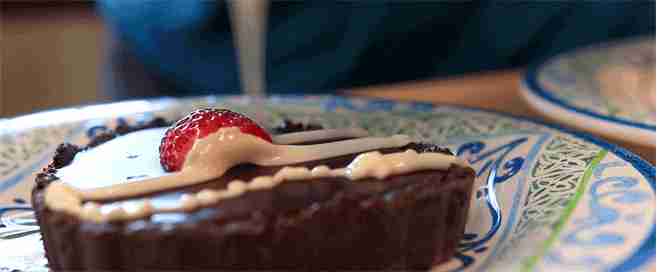 Mini Strawberry Chocolate Truffle Tartes
What do Moms love? Chocolate! No surprises there, so of course we're including these single-serving strawberry and chocolate truffle tarts to cap off the homemade meal.

Ingredients:
1 Pkg. Oreo Cookies
1 Stick of Butter, melted 16 oz. Semi-sweet Chocolate Chips
1 2/3 C. Heavy Whipping Cream
Optional:
Strawberries, halved
White Chocolate, melted
Recommended: Heart-shaped Mini Tarte Pans

Directions:
1. Place the cookies in a food processor and grind up until fine crumbs. In a mixing bowl, stir the butter and cookie crumbs together until butter is completely absorbed. Press the mixture into your mini tart pans, then refrigerate for at least 2 hours. 2. Pour chocolate chips in a heat-safe mixing bowl. In a small saucepan, bring the heavy whipping cream to a gentle simmer over medium-low heat, then pour over the chocolate chips and allow to sit for 1 minute. Then, use a whisk to stir the chocolate and heavy whipping cream together until completely combined. 3. Remove your tart pans from the refrigerator and pour your fresh-made truffle filling into the Oreo cookie shells. Place in the refrigerator again for at least 4 hours or overnight to harden. 4. Once hard, garnish with a halved strawberry and a drizzle of white chocolate, or whatever you prefer to use as a garnish. Gift this to your Valentine, or simply enjoy yourself!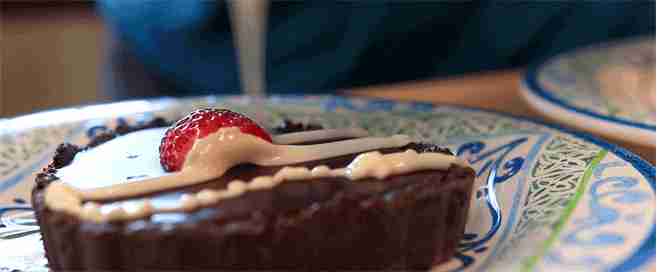 3-Ingredient S'more Cups
If you're looking to cater to an even SWEETER tooth, give these S'more cups a try and watch your Mom's jaw hit the floor—if she can stop eating the S'more cups long enough!

Ingredients:
Ghirardelli Melting Chocolate, your choice
Graham Crackers
Marshmallows (regular size)
Mini Cup Cake Liners and Pan

Directions:
1. Line your mini cupcakes pan with the liners and set aside.
2. In a microwave-safe dish, melt your chocolate in 20-second intervals, stirring between each batch, until the consistency is very thin.
3. While chocolate is melting, crush 2-3 graham crackers into fine crumbs in a large Ziploc bag.
4. Using a cookie scoop, drizzle a thin layer of chocolate into each cupcake liner and smooth with a rubber scraper to fill evenly. Sprinkle some graham cracker crumbs on top.
5. Using a pair of clean scissors, cut the marshmallows into thirds and place one marshmallow piece in each cup, pressing into the chocolate gently. Use a glass of hot water and a clean towel to clean your scissors periodically.
6. Add more graham cracker crumbs on top of the marshmallow if you like, then top with more melted chocolate until the marshmallow is no longer visible. Top with more graham cracker crumbs for garnish, then set aside to harden for a minimum of 1 hour. Colleen doesn't recommend placing these in the refrigerator to set, as condensation can cause the chocolate to become fogged or hazy.
7. Once hardened, remove the cupcake liners from the S'mores Cups, serve, and enjoy!
Don't forget the presentation! If you feel like treating your Mom to breakfast in bed, try out this easy DIY Mother's Day Breakfast Tray for a fun upgrade to the standard TV tray.