Top 5 Kid-Approved Appetizers
Kids can be picky eaters, but it's important that they start learning to like healthy and wholesome food at a young age. We know from experience that kids are more likely to eat something aside from cookies and candy if you present it to them in fun and exciting ways, so we've put together this list of our 5 favorite kid-approved snacks and appetizers. Follow along to make some for your little ones, and let us know if you have any other great ideas of your own!

1. Ants on a Log
This one's no secret, but it's a kid classic for a reason. It's delicious, it's healthy, it's filling, and it can be made in a matter of seconds. Simply fill the bowl-like side of a celery stick with peanut butter, and press the dried fruit of your choice into the top. The recipe typically calls for raisins, but dried cranberries or cherries can be a simple substitute to mix things up.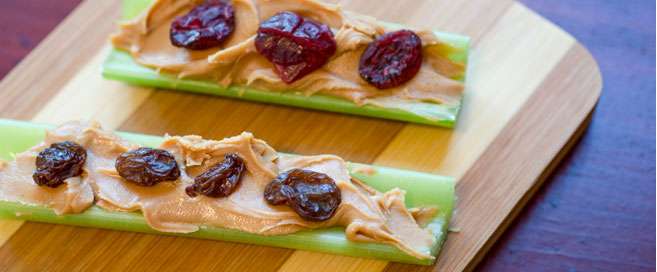 2. Star-Shaped Sandwiches
Star-shaped, heart-shaped, dog-shaped -- any cookie cutter you can get your hands on will do the trick here. This is a great way to make a basic sandwich fun by theming it around a holiday or one of your kids' favorite animals or activities. It's as easy as stacking some meat, cheese, and veggies between two pieces of white or wheat bread, and pressing down in the center with a cookie cutter to cut the sandwich into a fun shape. Our top tip here is to be smart about where you're cutting out the sandwich, and perhaps trying to fit 2 cookie cutter shapes into the one sandwich stack so as to not be wasteful with the crusts and scraps!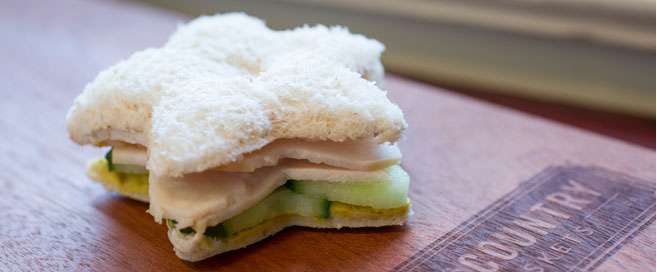 3. Ladybug Caprese Bites
The kid-approved version of this adult party staple is a great treat to bring to children's birthday parties or to have ready for an after-school snack. Start by slicing a chunk of mozzarella cheese into a circular shape -- we've done this here by cutting through a medium-size mozzarella ball to get a few solid slices -- and laying it on top of a basil leaf. Cut a cherry tomato in half, then cut a slit halfway up as shown to create the ladybug's wings. All that's left is to cut a black olive in half and place it in front of the tomato, face down, to create the "head", then use a balsamic glaze to put spots on its back and wings. Delicious, nutritious, and looks just like a little good luck ladybug!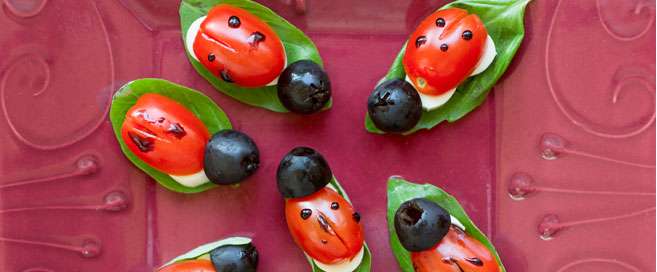 4. Apple Smiles
These apple smiles are the perfect happy medium between a hearty snack and a sweet treat. All you need is an apple, some peanut butter, and the best part, mini marshmallows! Slice your apple into thin wedges, and smother one side of a wedge with creamy peanut butter. Stack mini marshmallows in a line on the peanut butter to look like a row of teeth, then, after topping another apple slice with peanut butter, put that wedge on top of the marshmallows, peanut butter-side down, to creating a smiling apple mouth with marshmallow teeth.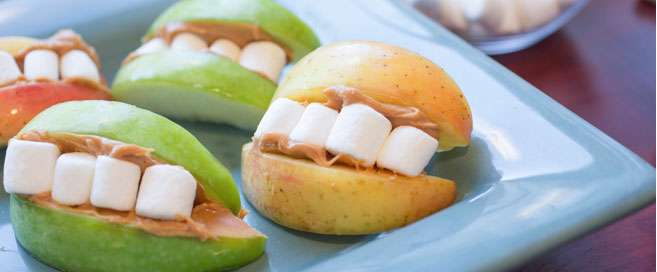 5. Crescent Pizza Rolls
We're switching gears on this one to something a little warmer -- pizza rolls made with crescent dough, because what kid wouldn't love a dunkable pizza snack? Simply unroll the crescent roll dough onto a baking sheet and put down a layer of pepperoni, then add a stick of string cheese and roll the dough up into a crescent roll shape. Bake for 10 to 15 minutes at 375 degrees, and serve warm with a bowl of pizza sauce for dipping!