Seasonal Recipe Roundup: Fall
The leaves are changing, the weather is cooling down, and suddenly the world smells like pumpkin spice—and we just can't get enough! Fall is a time to savor all things comfortable and cozy, and to come together with friends and family around a warm meal cooked with love and attention to detail. There are so many recipes out there, that you may not know where to start—so let us help! Check out some of our favorites below, and be sure to keep an eye out this season as we continue to share our Fall favorites. 

Homemade Spiced Chai Latte Mix 
Get into the Fall spirit by starting each chilly morning with a sweet and spicy homemade Chai Latte.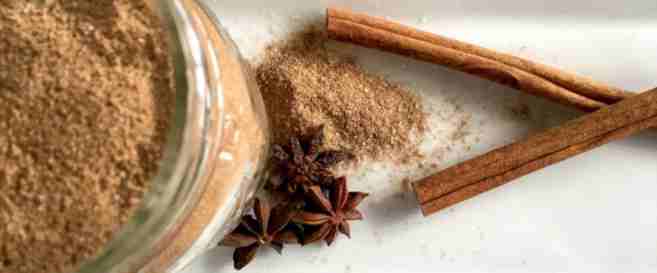 Ingredients: 
2 1/2 tsp. Ground Ginger
2 1/2 tsp. Ground Cinnamon
2 1/2 tsp. Ground Cloves
1 tsp. Ground Cardamom
1 tsp. Ground Allspice
1 tsp. Ground Nutmeg
1 tsp. Ground White Pepper
3/4 C. Instant Black Tea Powder
2 1/2 C. Vanilla Sugar
3 C. Powdered Nondairy Creamer, or: 
3 1/2 C. Powdered Coconut Creamer 

Directions: 
1. In a large bowl, mix the ginger, cinnamon, cloves, cardamom, allspice, nutmeg, white pepper, black tea powder, sugar, and powdered creamer together until well blended.
2. Store in a mason jar or other airtight container.
3. When making your latte, warm up a mug of the milk of your choice and add 2-3 tsp. of the Chai mix, depending on how strong you like your latte. The mix has been crafted to be less sweet, so if you prefer your chai lattes sweeter, use more vanilla sugar, regular sugar with a splash of vanilla extract, or liquid vanilla stevia (low-calorie option) to sweeten to taste. For a creamier flavor, add a splash of cream to the milk, or any nondairy creamer for the vegan option. Stir well, and enjoy!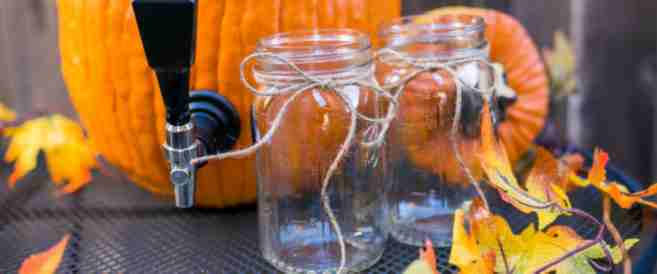 How to Tap a Pumpkin, and the Drinks to Fill it With! 
If you're throwing a Halloween party, or even a Friendsgiving, this season, impress your guests with a tapped pumpkin filled with your favorite Autumnal concoction! 

Supplies needed: 
A large pumpkin Carving kit
A tap kit
A sharp knife 
  
Directions: 
1. Carve the top of your pumpkin off and scoop out the insides of the pumpkin, making sure you're particular about getting every seed and all the stringy bits out, as they can clog the tap.
2. Using a pen or pencil, draw a dot near the bottom of your pumpkin where you'd want your spigot to be. Make sure you choose the pretty side of your pumpkin! If your pumpkin is very thick-walled, use your spoon to thin the wall out a bit from the inside, but be careful not to poke through to the other side. 
3. Using the drilling tool included with your kit, carve out the area you just placed a dot. Insert the spigot according to the directions, and voila! You have a pumpkin keg of your very own! Feel free to lightly carve any designs into the outside of the pumpkin, always making sure you never poke a hole in the pumpkin. You want this to remain liquid-tight. 
See the original post for beverage ideas!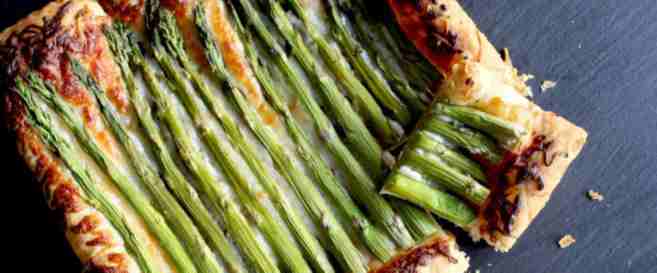 Easy Asparagus Tart 
This appetizer is so pretty you won't want to cut it up, but once you take a bite you won't want to stop! Be sure to whip one up for your next dinner party. 

Ingredients: 
1 sheet frozen puff pastry (allow to thaw)
1/2 C. Shredded Mozzarella Cheese
1/4 C. Shredded Parmesan Cheese
1 lb. Asparagus (on the thinner side, if you have the option) 

Directions: 
 
1. Roll out your puff pastry sheet and top with shredded cheeses.
2. Cut the woody ends from your asparagus, cutting all your spears to an even length.
3. Lay down your asparagus evenly to cover most or all of the puff pastry sheet.
4. Bake at 425°F for 30-35 minutes. 
5. Remove from oven and let cool, then slice evenly into squares. 




Wine-Soaked Blackberries and Honey Baked Brie 
This is one of our all-time favorites, and it's a guaranteed hit with any party guest. You won't hear any stomachs grumbling in anticipation of dinner when this sweet brie appetizer is on the table! 

Ingredients: 
Brie cheese wheel
Blackberries
Bold Red Wine, like Merlot 
Honey
Pinch of Salt
French Bread
Optional: Basil leaves for garnish 

Directions: 
1. Wash and dry your blackberries thoroughly, and place them in a medium-sized bowl. Pour your red wine into the bowl with the blackberries, making sure that the berries are completely submerged. Allow the berries to soak for a minimum of 1 hour, but the longer, the better!
2. Preheat your oven to 350°. Slice your French bread diagonally into slices and spread out on a baking sheet. Place in the oven for 20 minutes or until toasted to a lightly golden-brown; this can be done at the same time your brie is baking.
3. Remove the brie cheese from its packaging and cut the rind off all sides, then place it in an oven- safe dish. Top with an even layer of honey.
4. Bake for 10 minutes or until semi-melty, and remove. Place the wine-soaked blackberries on top, and put back into the oven for another 5-8 minutes. (Don't toss the wine - drink it instead, as it will now be similar to blackberry sangria! YUM!)
5. Add additional honey and whole basil leaves if desired, and serve.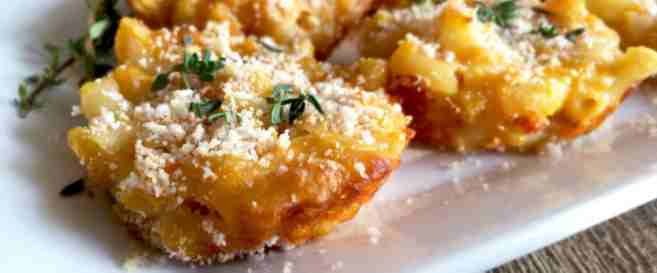 Butternut Squash Mac 'n' Cheese Bites 
Small enough to grab and go but savory enough to pack quite the punch, these Autumn-inspired mac 'n' cheese bites are great for kids and adults alike. 
 
Ingredients: 
6 C. Butternut Squash, peeled and chopped into 1" pieces (approx. 4lb squash)
1 Tbsp. Extra Virgin Olive Oil
2 Tbsp. Butter
1/2 C. Sweet Yellow Onion, diced small 
2 Tbsp. All-Purpose Flour
1 tsp. Fresh Thyme, minced
1/4 tsp. Nutmeg 
1/4 tsp. White Pepper
1/4 tsp. Sea Salt
1 C. Half and Half
1/2 C. Shredded Parmesan Cheese
1/2 C. Shredded Cheddar Cheese
3 C. Macaroni Pasta, cooked al dente
Breadcrumbs
Additional Sprig of Thyme, for garnish 

Directions: 
1. Preheat oven to 425°. Place butternut squash cubes, olive oil, and a dash of salt to a medium bowl and mix well, making sure to coat each piece of squash with the mixture. Roast for 35-45 minutes on a cookie sheet, making sure the pieces aren't touching, and turn them over halfway through the roasting time. 
2. Reduce oven to 375°, remove the butternut squash (once lightly browned on the edges) and allow to cool to room temperature. Once cool to the touch, add to a food processor and pulse until texture is smooth. If it's too thick, add the 1/2 and 1/2 in bit by bit until smooth.
3. As the butternut squash is roasting, melt the butter in a large saucepan over medium heat. Add the onions and saute until clear, then remove from heat. Add the flour, fresh thyme, white pepper, nutmeg, and salt to the onions, stirring well to combine. Add the butternut puree and the rest of the cream and place back on the burner over low heat. Add both the cheeses, stirring constantly until the cheese is melted completely. Remove from heat, make sure your cooked Macaroni is in a large bowl, then pour the mixture over your noodles, stirring well to combine. 
4. Take your muffin tin or mini muffin tin and spray with a light coat of nonstick spray. Add a thin layer of breadcrumbs to the bottom of each cup, then spoon some mac 'n' cheese into each cup, pressing down with your spoon to make sure the noodles are filling every gap possible in the cups. Once filled, add another thin layer of breadcrumbs on top.
5. Place your pan in the oven and bake for 20 minutes, until the tops of each Mac 'n' Cheese Bite are slightly browned and the cheese mixture has darkened slightly. Remove from the oven and set aside to cool for 5-10 minutes, then use a spoon to gently remove each bite from the pan. Arrange on a plate, garnish with additional thyme sprigs, and enjoy!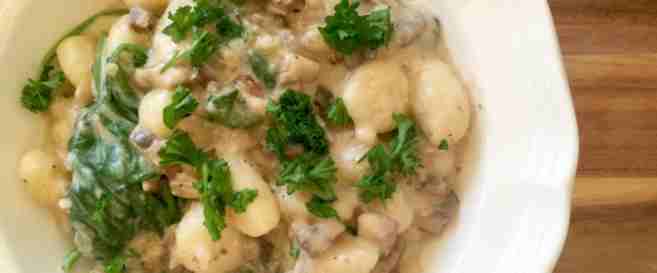 Creamy Mushroom and Spinach Gnocchi 
This saucy and savory dish truly screams Fall, so light those pumpkin-scented candles, cozy up by the fire, and come hungry! 

Ingredients: 
2 Tbsp. Olive Oil
1/2 Sweet Onion, chopped 
12 oz. Portobello Mushrooms, chopped
3 Roasted Garlic Cloves, minced
1 1/2 tsp. Dijon Mustard 
1/3 C. White Wine
1 C. Half and Half
1 lb. Uncooked Potato Gnocchi
1-2 handfuls Baby Spinach
1/2 C. Parmesan Cheese, freshly grated
Salt & Black Pepper to taste
Pinch of: Oregano, Rosemary, Thyme, Marjoram, Basil, Sage
(Optional) Fresh Parsley, chopped 

Directions: 
1. In a large cast iron skillet, sauté the olive oil and onion for 3-4 minutes. Add the mushrooms, garlic, and dried herbs and sauté for an additional 5 minutes, stirring constantly. Add the mustard, cream, and white wine, then stir and allow to simmer for another 1-2 minutes.
2. Stir in the spinach and gnocchi and allow the mixture to start bubbling again. Once a gentle simmer starts, reduce the heat to medium-low and cover, cooking for 3 minutes. 
3. Stir in the shredded parmesan, add more salt and pepper as needed, and garnish with the fresh parsley. If preferred, grate more parmesan over the top. 

If we had it our way, Fall would last the whole year long—so you can bet we'll still be cooking up these recipes well into next year!