Cooking with Larry: A Passion Story
For some, food is an experience. Whether it's Spaghetti and Meatballs, Filet Mignon, or Sushi, meals are best shared in the company of friends and family.
For others, food may as well be the very air they breathe; it's a journey that takes a lifetime. For these individuals, food feeds their soul, fuels their willingness to embrace life with excitement, is at the root of their everyday activities, and becomes the centerpiece for every social gathering. They taste their way through cities, states, and countries, and the exotic flavors they experience around the world surface in the dishes they carefully craft at home. Food is how they show love to their friends and family, and you'll almost always find them in the kitchen, or in the backyard monitoring the barbecue.
Or in Larry's case, monitoring his wood-burning pizza oven.
As our resident cooking enthusiast, Larry's passion for food translates onto our YouTube channel with a warmth that beckons viewers into his kitchen, sharing his best recipes and trade secrets, and teaching you ways to prepare incredible, flavorful meals with grace and ease. It's a family trait, it would seem. His son, Nathan, enjoys meal preparation like his father does, and has dreams of opening a food truck with his fiancée Sofia someday.
Larry's warmth and enthusiasm began in his mother's kitchen at a young age, where she cooked everything from scratch, the old-fashioned way. "If you were going to help, you were going to 'do it right'," Larry told us. Many years later, Larry moved out at and had the opportunity to tour across the US in a band. He discovered restaurants that served food from foreign lands, and couldn't get enough. "I've been very lucky and have [been able to] travel quite a bit. Starting at 18, I lived in the Virgin Islands for 10 months with a couple friends. I can still taste the Conch Patties!"
Since then, he's traveled through mainland Mexico, Italy, Hawaii & Costa Rica. "I've been to every State in the US and through Canada too. Travel is food. I want to try it all, wherever I'm at. The flavors stay with you and will always surface at some point, no matter what you're cooking. I just booked [a trip to] Paris and London in the Spring - pretty sure my head is going to explode there," Larry said. The flavors and aromas he's experienced from around the world have definitely surfaced in his own cooking style, and he's been building his skill, knowledge, and repertoire with every place he visits.
Today, you'll most likely find Larry in the kitchen with his best friend and wife by his side. "I have definitely taken over!" Larry laughed. "My wife, Gina, is a great Sous Chef though," he added, with a wink.
One of Larry's favorite meals to prepare, enjoy, and share is pizza, cooked in the wood-burning pizza oven in his backyard. He loves setting up a "pizza bar" and allowing his party guests to build their own, using his homemade pizza sauce and homemade pizza dough, the recipes for
which he was kind enough to share here (see below). Inviting loved ones over to 'hang out' usually means an elaborate spread of toppings, plenty of wine, and hours upon hours of laughter and enjoyment. We encourage you to meet Larry for yourself by watching his video below. Check out his other amazing video recipes, including his famous pizza recipes, on our YouTube channel!
 
Larry's Go-To Pizza Dough Recipe
After tons of research, experimentation, failures, and successes, Larry's go-to dough recipe was perfected. "Dough recipes are kind of a never ending experiment... I have my "go to" recipe that I'm really happy with, but I still like changing the flour, ingredients, weights, etc. just to increase my knowledge."
Ingredients:
All measurements by weight
415 Grams Bread flour
10 Grams Salt
1 Gram Dry Active Yeast
270 Grams Water

Tools:
Thermometer
Kitchen scale
Kitchen Aid Mixer with Dough Hook installed.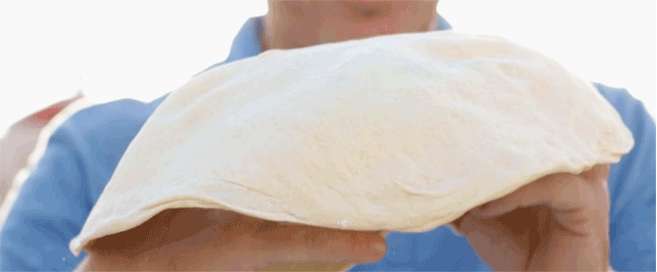 Directions:
1. In the mixing bowl, combine flour and salt. Whisk together until thoroughly mixed.
2. Carefully heat the water in a microwave or on the stove until it reaches 100 to 105 degrees. Gently stir in the yeast and set aside for 10 minutes.
3. Gradually add the water/yeast mixture to the flour, stirring continually.
4. Place the bowl onto the mixer, set to medium speed, and allow to mix for 8 minutes.
5. Transfer your dough to a floured surface, knead, and form into a large ball.
6. Place dough ball into a large, covered plastic container, and allow to rise for 4.5 to 5 hours at room temperature.
A tip from Larry: "The oven is a great spot to allow the dough to ferment, obviously turned off! Also, the dough will at least triple in size, so make sure your container is big enough."
7. Cut dough into 240-250 gram servings. Coat hands in Extra Virgin Olive Oil and massage/form dough into individual balls, then place in a plastic bin with plenty of space between each dough ball.
8. Let the dough rest for an additional two hours at room temperature. At this point, the dough should be ready to easily form into 14" to 16" pies.
To store the dough:
Use right away, or place pizza dough balls into freezer bags and freeze. Pull out what you need when you need it, but allow the dough to thaw for 12 hours in the refrigerator and an additional 30 minutes on the counter before forming into pies and cooking.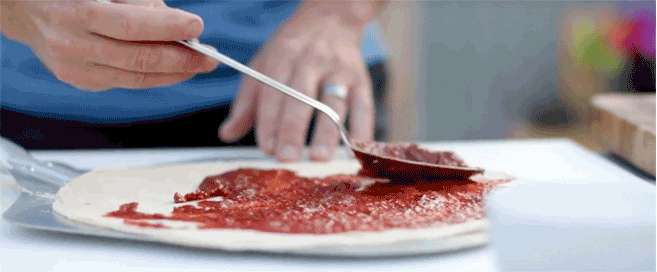 Larry's Simple Sweet Pizza Sauce Recipe
Goes with any type of pizza. "My sauce originated from a lot of time spent in the kitchen. I knew the flavor I was looking for - I just needed to get my ingredients correct." And he did.
Ingredients:
1 (28oz) Can Cento San Marzano Peeled Tomatoes
1 Tbsp. Thyme
1 Tbsp. Parsley
1½ Tbsp. Oregano
2 Tbsp. Basil
1/2 C. (packed) Brown Sugar
2 Tbsp. Extra Virgin Olive Oil
Healthy Pinch Kosher Salt & Fresh ground pepper
Directions:
1. Empty can of tomatoes into a bowl and crush tomatoes by hand. Remove any stem ends that are yellow and firm – there are usually one or two in a can.
2. Combine all ingredients into a saucepan and simmer for one hour covered, and an additional hour uncovered, stirring occasionally.
"Done. It's that simple." - Larry