DIY: 3 Things to Do with Your Wine Corks
Don't throw out that cork! If you've been saving your wine corks and weren't sure what to do with them, we've got three of our favorite recycled wine cork crafts below, and everything you need to know to make them in a matter of minutes!


Wine Cork Wall Art
For this example, we chose to make the word "EAT," but you can make just about any shape you can imagine -- maybe a star, a heart, an anchor, etc. Simply draw or trace your design on a large and flat piece of sturdy cardboard, and use an Exacto knife to cut out the shape. You can also order wood cutouts from various shops online or pick one up at your local craft store if you don't feel like making the base yourself.

From there you simply organize the wine corks in whatever pattern you choose. Maybe in a random pattern, or from darkest to lightest. If you don't have enough corks, you can order used red and white wine corks by the hundreds from Etsy. Once you have all your corks, lay them out colored side up on your shape base in either random order or your chosen pattern. Pick up the corks one by one, once they all have their place, and use a hot glue gun to place a dot of glue on the bottom, then stick the cork back onto your base. Be sure not to bump each cork while the glue is still drying, as they can be tricky to work around.


Once this craft is complete, you can hang it up on your wall, use it to liven up an entry table, or gift it to a friend!

Wine Cork Candle Holders
All you need for this are two cylindrical glass containers and a bunch of wine corks. You can find these containers at your local craft store, dollar store, or even somewhere like Target. Simply place the thinner cylinder centered inside your larger one, and fill the space around it with wine corks.

For the actual candle, stores like Target and Cost Plus World Market carry plenty of candles in every shape, size, and color that don't come in their own glass containers, so you just need to find one thin enough to fit inside your small cylinder. Or you can do what we did here, and use an electric candle on a self-timer, so they come on every night after the sun goes down! Once you've picked out your candle, place it in the center -- it's best to pick a candle that isn't too tall, going only about 2/3 of the way up your glass at most, so that the light can show through the corks from the center rather than from only the top of the vase.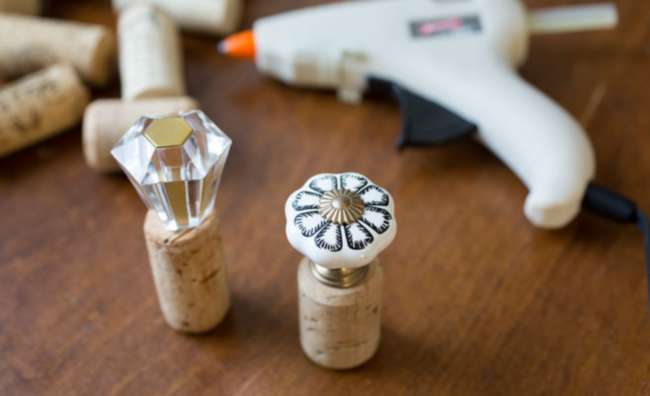 One-of-a-Kind Bottle Stoppers
Pick up some fun drawer knobs from the local hardware store, or order custom ones online. Then, using a small drill bit, drill a hole in the center of one end of your wine cork. Using a screwdriver and the screw that came with the knob, screw it until the base is flush with the wine cork, and the other side of the screw is sticking out of the opposite end. Then, you just pop the knob onto the cork by screwing it onto the end of the screw, and you're done!