Father's Day Recipe Roundup
When we think of our Dads, we fondly remember all the roles they have played in our lives. These include mentor, Tee-ball coach, role model, and grillmaster. There are also countless other roles they have taken on.

There is one universal way to someone's heart. That way is through their stomach. A good, hearty, homemade meal is the key.

So with Father's Day right around the corner, we're planning to treat our dads to a feast of their favorites. Not sure where to start as you're combing the internet for recipes that are guaranteed to impress? Not to worry, we've done the work for you! Check out some of our favorite Dad-Approved recipes below and enjoy a holiday well-deserved with your favorite Father Figure.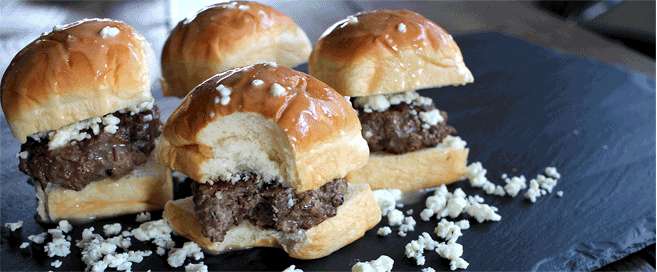 Beef and Bleu Cheese Sliders
Whose Dad doesn't love a good burger? The sliders are a staple in our kitchens—juicy, savory, and sure to satisfy.
Ingredients:
12 Kings Hawaiian Rolls
2 lbs. Ground Beef
1/3 C Onions, chopped
3 Tbsp Worcestershire sauce
1 Tbsp Garlic Powder
1 C Blue Cheese Crumbles Salt & Pepper
1/4 C butter, melted
Directions:
1. Put the ground beef in a large bowl. Add the onions, Worcestershire sauce, garlic, and 1/4 of the blue cheese. Season with a dash of salt and pepper. Mix all the ingredients together.
2. Shape the beef into 12 small patties and grill over medium-high heat until cooked to your liking, or around 4 minutes per side.
3. Place each slider patty on a bun and top with the remaining cheese. 4. Drizzle the melted butter over the tops of the sliders and serve hot.
Easy Pizza Sliders
These Pizza Sliders bring together two universal favorites, pizza and burgers! Whip up a batch of these cheesy sandwiches and watch as your Dad eats up the whole plate!
Ingredients:
1 Pkg. Par-Baked Rolls 16oz Pizza Sauce Shredded Mozzarella Cheese Shredded Parmesan 1 Pkg. Pepperonis Fresh Basil Leaves
Directions:
1. Preheat oven to 375°. Slice all rolls horizontally and lay the bottoms out on a non-stick baking sheet.
2. Using a spoon, dollop your preferred amount of pizza sauce onto the bottom of each roll. Add pepperoni slices, 1-2 fresh basil leaves, and a generous amount of shredded mozzarella and parmesan cheese.
3. Place the tops of the rolls on the baking sheet, making sure the are cut-portion is facing down. Sprinkle the top of the rolls with more parmesan cheese. 4. Bake in the oven for 20 minutes or until the cheese is melted and the tops are well-browned. Remove from the oven and serve with additional warmed pizza sauce, and enjoy!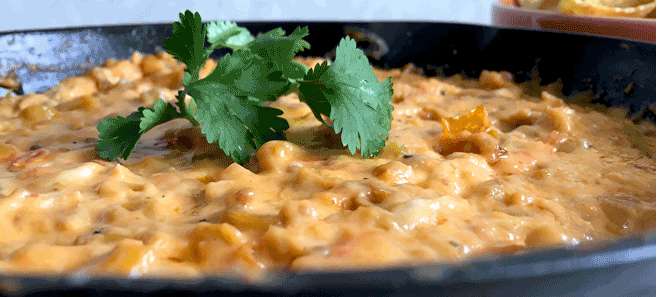 Kickin' Chicken Queso Dip
Rip open a bag of chips and whip up this surefire crowd-pleaser. Our Queso dip will have your Dad begging for more than one Father's Day per year!
Ingredients:
1 Tbsp Butter 1 Tomato, diced
1/3 C Chopped Red Onion
1 Garlic Clove, minced
1 Tbsp Spicy Taco Seasoning, or to taste
1/2 C Corn Salsa 2 C Shredded Mexican Blend Cheese
1 Block of Cream Cheese
3 Chicken Breasts, cooked and finely shredded
1/2 tsp Cumin
1/2 tsp Dried Oregano
Optional:
Cilantro for garnish
Directions:
1. Melt butter in a large cast iron skillet. Saute tomato, onion, garlic, and taco seasoning over medium heat. Cook for about 10 minutes, or until the juices and butter become thick. Add the corn salsa and stir briefly; 1-2 minutes.
2.Add the shredded Mexican blend and sharp cheddar cheeses and stir until melted, stirring constantly. Add the cream cheese, shredded chicken, cumin, and oregano. Stir constantly. Wait until the cheese is fully melted.
The mixture should be slightly bubbling at the edges. Remove from heat and place on a trivet, garnish with cilantro, and serve with tortilla chips. Enjoy!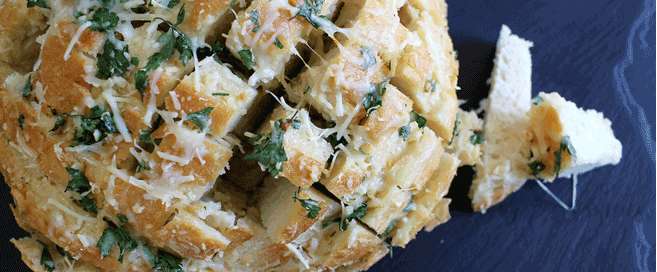 Garlic and Cheese Pull-Apart Bread
Looking for something the whole family can share over a couple of drinks and some good conversation? Cheese. Garlic. Bread. Need we say more?
Ingredients:
Purchase one loaf of sourdough bread. Melt half a cup of unsalted butter. Mince five cloves of garlic. Chop two tablespoons of parsley. Grate one cup of mozzarella cheese.
Directions:
In a small bowl, combine melted butter, garlic, and parsley.
Cut the top of your bread in a crosshatch or diamond pattern. Be careful not to cut all the way through.
Pry open each crack in the loaf. Slowly pour the melted butter mixture throughout. Tuck a pinch of cheese in each crack as you go.
Place the bread on a sheet of foil. Wrap it around the entire loaf.
Bake at 350 degrees for 15 minutes. Unwrap the foil and continue to bake for another 10 minutes. Serve immediately. Prosciutto-Wrapped Asparagus
This asparagus side dish may just steal the show! These veggies are roasted to perfection and wrapped in flavorful prosciutto. They make a delicious main dish.
Ingredients:
20 Asparagus spears 10 Prosciutto slices Olive Oil
Directions:
1. Wash each asparagus spear and cut off the dry ends, or about 1 inch from the bottom.
2. Slice each prosciutto slice in half to create 2 strips, for a total of 20 long slices.
Start at the bottom of each asparagus spear. Wrap a prosciutto slice around the stem tightly. Continue until only the top ends are exposed.
3. Pour a little olive oil into a large skillet. Heat the skillet on the stovetop at high heat.

Fry the prosciutto for roughly 3 minutes. Flip the prosciutto halfway through to fry evenly. Continue frying until the prosciutto is crispy and the asparagus is tender.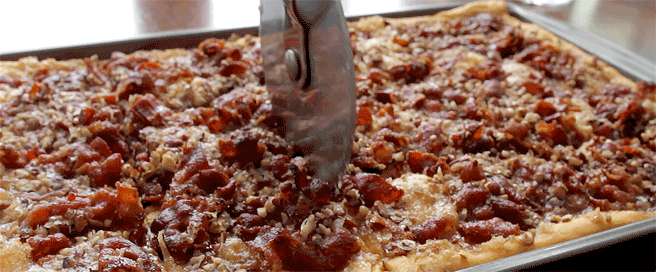 Nutty Maple Bacon Crack Bars
Tap into that sweet (& salty!) tooth with this one-of-a-kind dessert that he'll be snacking on all week.
Ingredients:
1 lb. Cooked Bacon, torn into pieces 1 Pkg. Crescent Rolls ¼ C Chopped Pecans ½ C Maple Syrup, divided ¾ C Brown Sugar
Directions:
1. Preheat your oven to 325°. Unroll the package of Crescent Roll dough onto a medium-sized nonstick baking sheet.
Press together any splits or holes that appear. You want a solid surface. Once pressed together, poke holes evenly throughout the surface of the dough with a fork.
2. Drizzle ¼ C. Maple Syrup over the dough and use a rubber spatula to spread it out evenly. Add the braown sugar and spread this out evenly as well. Sprinkle half the pecans over the dough, then place all of the bacon pieces on top evenly. Drizzle with the remainder of the maple syrup and chopped pecans.
3. Preheat the oven. Bake the Crescent dough for 25 minutes. Check to see if the dough is cooked through and the edges are lightly golden brown.

4. Slice with a pizza cutter and serve. Enjoy!
If you cook one of these up, we'd love to see pictures or hear how it went! Cheers to Dads, and we hope you have a wonderful weekend celebrating yours.