How to Host a Wine Tasting Party + FREE PRINTABLES!
If you've ever had the urge to throw a party just for the sake of having all your favorite faces in the same room, we understand that completely. Whether it's dinner, dessert, a game or movie night, or an evening of tapas and cocktails, any reason to get together with friends and family over delicious nibbles and sips is 100% worth it.

For pretty obvious reasons, we're big fans of all things wine, which means a Wine Tasting Party is right up our alley! Wine Tasting Parties provide the perfect balance of everything a party needs: an activity for everyone to focus on that isn't all-consuming, so conversation still takes place; multiple varieties of wine to try then discuss; delicious snacks that complement the wine beautifully; and happy, relaxed guests. You really can't go wrong!

If you've never planned a Wine Tasting Party, however, knowing where to start or what to do can be a challenge. One of the very first questions may easily be, "Where do I even start?" to which we'll happily answer, "Right here!"

Once you understand what goes into planning a Wine Tasting Party, you'll quickly realize that it's one of the easiest parties you could ever dream of prepping and hosting. The setup is very quick, the snack options are plentiful, light, and easy to prepare, and you can even relieve the financial burden of the booze by asking your friends to bring the wine. Sounds pretty easy, right?




It gets better! We've designed 2 different packs of Wine Tasting Party Printables that include everything you'll need to plan and throw the perfect Wine Tasting Party, and best of all, they're FREE!

Ready? Here's where you start: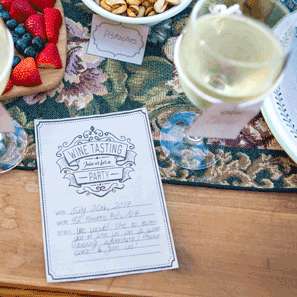 1. Send out the invites. We've included invitations in our free Printables pack! All you need is a printer, some envelopes, and some thick cardstock (for the cards), and they're ready for printing off and sending. Alternatively, you can simply send the invitation to your guests by email or text!
If you're opting for a throwing a budget-friendly party, be sure to tell each guest to bring their favorite white or red wine. Or, to be sure that you get an equal balance of reds and whites, assign guests a wine type to bring. You can also ask them to bring an appetizer for additional food options.
2. Go shopping. You'll want to pick up the ingredients to make a fantastic and balanced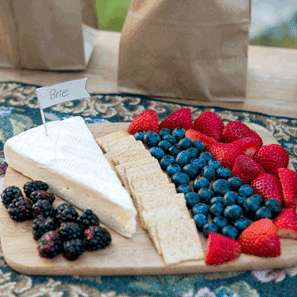 charcuterie board, which is the perfect complement to every variety of wine. This is what you'll be snacking on during the wine tasting part of your party! Follow our nifty guide to craft yours, which helps take the guesswork on how to assemble a balanced cheeseboard. Just make sure you buy enough to feed your whole party! (Depending on the size of your guest list, you may want to put a few additional dishes out for you guests to snack on. Our blog has a large selection of party and appetizer food recipes, so check it out - you're bound to find many options you like.)
Add some wine bottle paper bags to your shopping list; they can be purchased from your local liquor store. Finally, if you don't already have toothpicks, ribbon or string, and double-sided tape at home, pick some up while you're out.


3. Print all the things. Now is the time to prep your party supplies. We believe Wine Tasting Parties are so easy to host, we wanted you, our blog guests, to have a choice in designs to best accommodate your style: either Chalkboard or Craft Paper!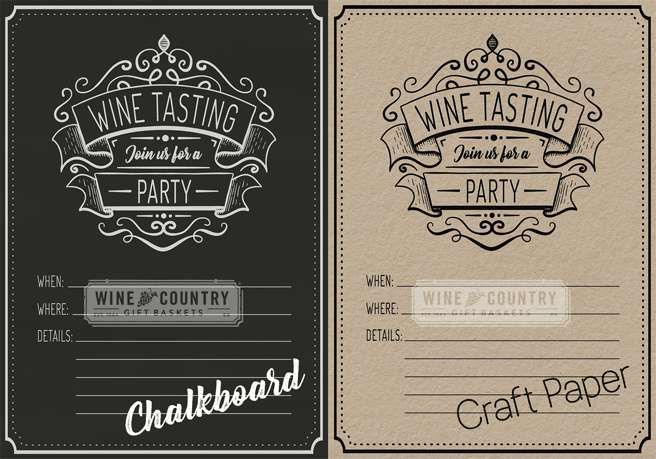 In each FREE Printables pack, we've included:
• Invites (as mentioned above)
• Cheese Labels
• Tent-style Food Labels
• Wine Bottle Number Tags
• Wine Tasting Note Sheet
• Wine Tasting Guide
• Wine Glass Name Tag
• Themed Bunting-style Banner
• Tasting Menu
You don't have to utilize everything we've included, but they'll make life easier (and cuter) in the long run.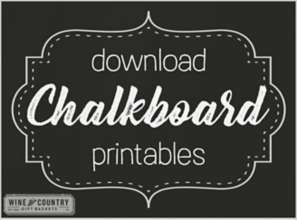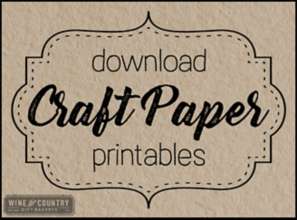 Once you've downloaded, printed, and cut out your desired Printables, here's what you do with them: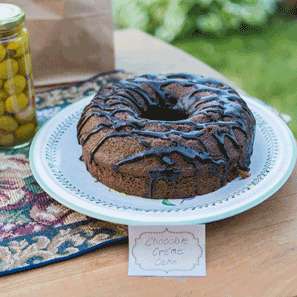 • Write your purchased cheese names on the cheese labels, then tape them to the toothpicks using the double-sided tape. Toothpicks are easy to poke into your cheeses!

• For any appetizers or desserts, use the tent-style Food Labels. You can also utilize them for the different elements on your charcuterie board, and leave some blank for your guests to fill out for the dish they brought.

• The wine bottles that your guests bring will immediately go into your paper bags, that way your friends aren't able to see which they're tasting. This will mean they have to make a judgment based on what's in their glass: the smell, the color, the taste, etc. We recommend prepping the bottles in another room, that way your guests can't see the process. Remove any exposed and revealing labels from the necks of the bottles before they're visible by guests, place the bottles in the bags, and tie a Wine Bottle Number to the neck. Make sure you keep the white wines and the red wines separate from each other, and always start tastings with the whites, working your way from lightest to darkest (reds).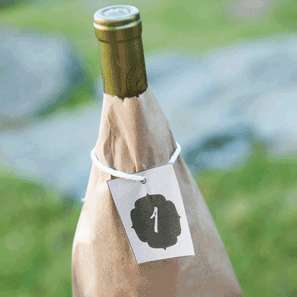 • The Wine Tasting Note Sheet is for your guests to record their notes and favorites on, so make sure each guest receives these, and a Wine Glass Name Tag so they can label their glass. It gets tied around the stem or, for a unique spin, around the bowl of the glass!

• The Tasting Guide is the roadmap for wine newbies. It's a fun and easy way to learn what to look for in a wine, and how to complete their Wine Tasting Note Sheet.
• The bunting banner is adorable (if we do say ourselves), and as long as you have some string and tape around, it's easy to put together and hang for some sweet, themed some party decor.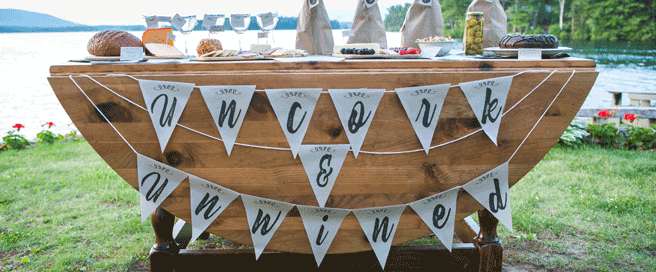 • The Tasting Menu is a more 'advanced' step, completely optional, and a place for wine aficionados to recommend suggested food and wine pairings if they decide to provide all the wine and take their guests on a tasting adventure. Alternatively, it can be used as a cute menu board!
We recommend using a white chalk marker or silver Sharpie on the Chalkboard Printables, and any black pen or marker on the Craft Paper.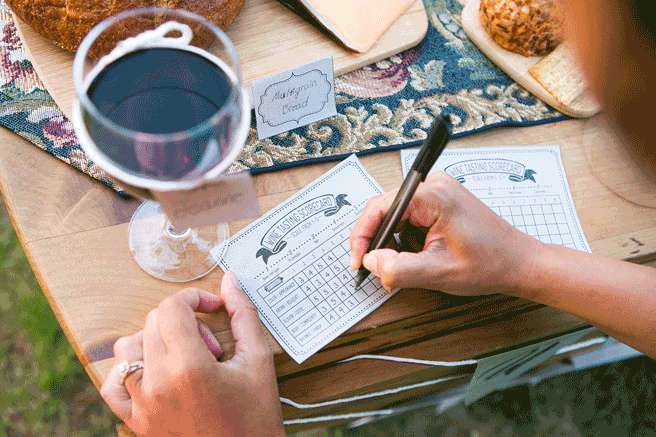 4. Explain the game(s). Tell guests that they'll be tasting numerous wines throughout the evening, without actually knowing what they're tasting. Start with the white wines and taste your way through to the reds, keeping the bottles available for additional pours as guests enjoy them. Have your guests vote on the best and worst wines and hand out prizes to the winner and loser: a fun gift to the winner, who brought the best bottle, and a gag gift to the loser with the worst! Once the vote is finalized, feel free to pull the wines out of their bags, revealing to guests what they loved or hated. Additionally, there are so many options for wine tasting games, and we definitely encourage you to plan at least one for your guests!
For information on how to serve, pour, and store the different kinds of wine, click here.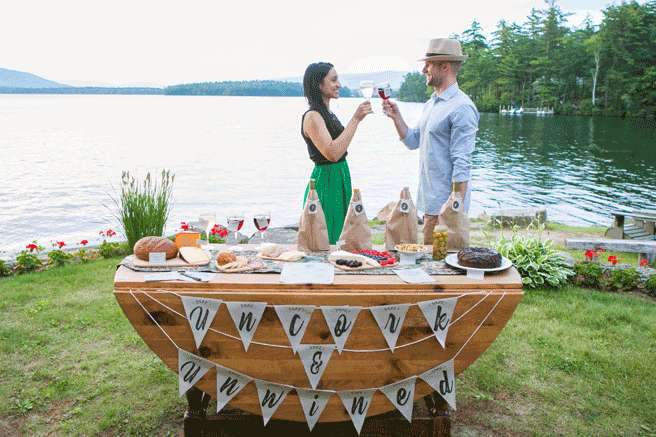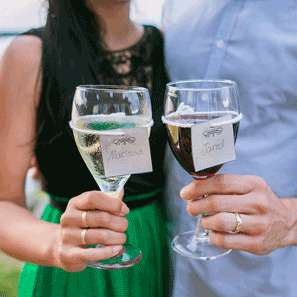 That's it!
A Wine Tasting Party truly is an easy way to host the friends and family you love while providing a fun activity for them all to do together. It would even be a fun festivity to do together regularly - once a month, perhaps - since the wine varieties can always change. After all, there are so many different types of wines to enjoy out there, and who doesn't enjoy a relaxed evening spent with friends and family?
Download your Wine Tasting Party Printables below, and tell us which is your favorite: Craft Paper, or Chalkboard?
We'd sure love to know if you're excited about using our adorable Printables, and when you use them, please share pictures of your Wine Tasting Party with us on Facebook, Instagram, or Twitter!